Forest Fruit Cake (Berry Cake)
This is a delicious fruity cake recipe by Bahar Tanriverdi, a super-talented Turkish chef. It's made with a mix of berries such blueberries, raspberries, blackberry, strawberry, and red currants, but feel free to experiment with your preferred mix of berries.
Enjoy!
Forest Fruit Cake (Berry Cake)
Ingredients
White Cake Sponge:
6

eggs

1

glass

granulated sugar

1

glass

flour

1

cup

starch

1

packet

baking powder

1

packet

vanilla

1

small cup hot water
Pastry Cream:
1

l

milk

10

tbsp

sugar

5

tbsp

flour

3

tbsp

starch

2

egg yolks

1

packet

vanilla

50

gr

margarine
Butter Cream:
500

gr

butter

750

gr

powdered sugar
Chocolate Glaze:
3

tbsp

cream

Couverture chocolate
Fruits:
blueberries

raspberries

blackberry

strawberry

red currants
Instructions
How to Make the White Sponge Cake:
Separate the egg yolk from the white. Whisk the yolks well with the sugar.

In a separate bowl, mix the flour, starch, baking powder, and vanilla.

Add some flour and hot water to the whipped egg yolk and continue whisking.

In another bowl, whisk the egg whites well, adding a pinch of salt.

Add the egg white to the other ingredients in batches of two or three and mix together in one direction only with a spatula.

Put a mold on a tray and pour the mortar into the mold. Knock the tray on the worktop a few times to knock the air out of it.

Bake in a preheated oven at 180 ℃ (356 ℉) for 40 minutes.

Don't open the open door at all before the 40 minutes, and then check with a knife. If it's cooked, take it out of the oven and leave to cool.
How to Make the Pastry Cream:
Whisk the flour, starch, sugar, egg yolk, and milk in a pan with a mixer.

Cook on a low heat until it reaches the consistency of a pudding.

Removing from the stove, add the margarine and vanilla and beat for 10 minutes. Let it rest overnight.
How to Make the Butter Cream:
Put the room-temperature butter in a the mixer bowl and whisk until it becomes creamy.

Sift the powdered sugar and gradually added it to the butter and whip for 7 minutes.
How to Prepare the Fruits:
Take the cake out of the oven and let it sit for 3-4 minutes. Then, run a fine spatula around the edge of the mold and remove the cake. Leave to cool on a wire rack. Then, take off the baking paper and cut the cake across the circumference into three layers.

Wet the layers with milk. Spread them with cream and sprinkle with raspberries and chocolate drops. Lay the three layers one on top of the other.

Cover the top and sides with cream and let it rest for at least 3-4 hours.

Decorate the cake with chocolate and forest fruits.
Notes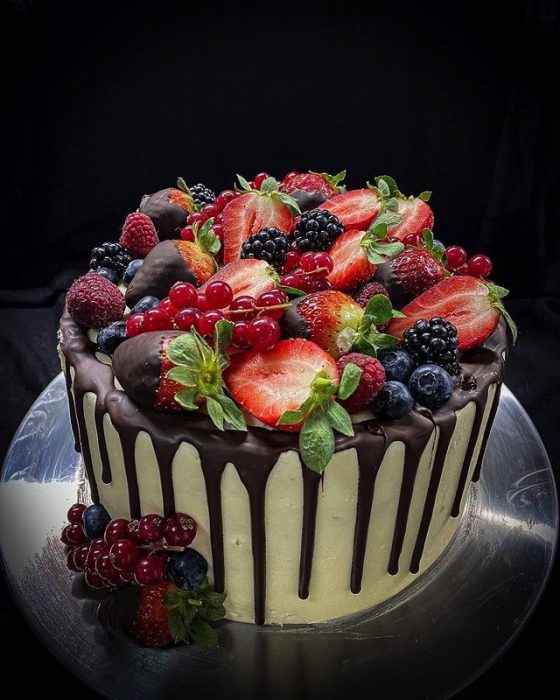 Related: Vanilla Raspberry Bavarian Cake
Related: Raspberry & Blueberry Swiss Roll
Related: White Chocolate Raspberry Cake
Related: Chocolate Panna Cotta with Raspberry Coulis
Related: Blueberry & Raspberry Chocolate Cake