15 Tasty Desserts from Jamaica You Need to Try
While Jamaican cuisine is world-famous for its highly flavored (and, to some, ultra-spicy) foods, the wide range of mouth-watering desserts has never lagged in their unique island appeal and scrumptiousness.
Coconut—whether desiccated, grated or chopped—and coconut milk, which is the juice derived when warm water is added and then squeezed from the mixture, are key ingredients in most Jamaican desserts.
So too, are spices such as nutmeg, allspice, cinnamon, and vanilla; and of course, lots of cane sugar and a splash of Jamaican overproof rum usually complete the dishes.
If you have a sweet tooth, or simply like to have your taste buds titillated by something sweet even occasionally, then you cannot afford to miss these tantalizing Jamaican desserts.
1. Ackee Ice Cream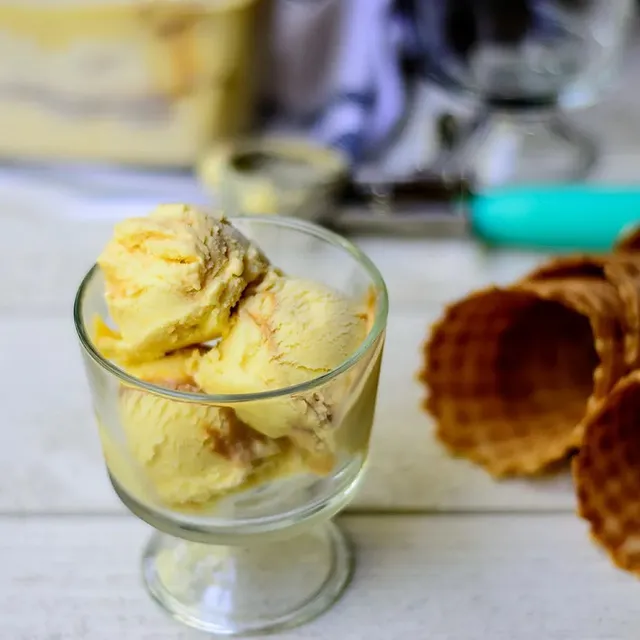 Ackee, the national fruit of Jamaica, is usually associated with Jamaica's national dish, ackee and saltfish, but ackee is also used to make a delectable dessert.
Ackee ice cream is made using parboiled ackees, condensed milk, heavy whipping cream, and vanilla extract. The parboiled ackees are combined with heavy whipping cream in a saucepan and brought to a simmer.
The mixture is then combined with a tin of condensed milk and vanilla until completely smooth then set aside to cool. In the meantime, the whipping cream is whipped until stiff peaks form. The whipped cream is folded into the ackee mixture, which is then poured into a pan lined with plastic, covered with more plastic, and put to freeze. And … voila! Scoop and enjoy!
2. Banana Bread
This moist, sweet, cake-like bread is more cake than bread. It is usually baked in a loaf pan, which probably accounts for the name.
It is made from mashed overripe ripe bananas, flour, butter, eggs, sugar, coconut, raisins, lime or lemon juice, vanilla extract, cinnamon, nutmeg, milk, and a dash of dark Jamaican rum to add a potent flavor. A mouth-watering treat!
3. Bread Pudding
Jamaican bread pudding is made from white bread (preferably not very fresh, at least a day old), butter, eggs, sugar, raisins, sweetened condensed milk, cinnamon, nutmeg, and a generous splash of Jamaican rum for those who are not teetotalers. So delicious you'll always want more!
4. Carrot Cake
A real Jamaican favorite, carrot cake is made by first combining shredded raw carrot and sugar in a bowl with eggs, oil, and vanilla. Flour, cinnamon, mixed spices, baking soda, and salt are then combined separately, before slowly adding the dry ingredients to the wet mixture and mixing until completely combined.
This is baked for about 40 minutes at 350 °F; the trick is to ensure that some moistness is preserved. Frosting is optional.
5. Coconut Toto
Jamaican coconut toto is made by combining desiccated (unsweetened) or freshly grated coconut with flour, brown cane sugar, eggs, milk, butter, mixed spices, ginger, vanilla extract, and a small amount of Jamaican rum.
The result is a rich, unmistakably coconut-flavored dessert tinged with a hint of rum. It is altogether lovely.
6. Cornmeal Pudding
This delectable pudding is often called "fire a bottom, fire a top, hallelujah inna di middle", which means "fire at the bottom, fire at the top and the tasty pudding in between" and refers to the original method of cooking this pudding in a Dutch pot placed on coals with another set of coals on a metal covering on the top of the pot.
Nowadays, it is baked in a conventional oven. It is made from cornmeal with a little flour added and combined with brown cane sugar, coconut milk, raisins, nutmeg, and mixed spice. After baking for approximately 45 minutes, a custard made of coconut milk, sugar, vanilla, and cinnamon is spread over the top of the pudding and it is allowed to bake for another 15 minutes or until the custard is set.
This will tantalize your taste buds. Cornmeal pudding is often sold in slices at roadside and corner shops.
7. Duckunoo
Duckunoo (also known as Blue Drawers or Tie-a-Leaf) is certainly among the most Jamaican of Jamaican desserts. Perhaps more than any other, it reflects the rich African heritage of this Caribbean Island.
Duckunoo is delicious. It is made with cornmeal, grated green bananas, coconut, spices, and brown cane sugar, which are mixed, then wrapped and tied in small parcels of banana leaves and cooked slowly in boiling water. The result—a very delicious treat.
8. Fruit Salad
Experts advise us to eat fruit on an empty stomach. For most Jamaicans, this advice largely goes unheeded, as a plate or bowl of zesty, colorful, and wonderfully refreshing fruit is eaten at any time and is quite popular as a dessert.
The list of fruits goes on and on from watermelon, mangoes, oranges, papayas, and jackfruit; to ohtaheiti apples, bananas, and pineapples … cut in all shapes and sizes and attractively displayed. Mix and enjoy!
9. Gizzada
The more common variety of gizzadas consists of an open-topped pastry shell filled with an alluring concoction of grated coconut, brown cane sugar, nutmeg, butter, and water. Its pinched crust gives this dessert its other name: pinch-me-round.
The other variety contains the same mixture but is encased in a crust that could cause it to be easily mistaken for a plantain tart, but that's where the comparison ends. The gizzada opens up a whole new world of sweet, spellbinding flavors. Gizzadas are usually available at corner shops across the island.
10. Plantain Tart
There's a long and lasting love affair between Jamaicans and their plantains. Plantain tarts are just one of the many ways Jamaicans enjoy this delectable fruit that strangers sometimes mistake for a banana. The pastry of this piquant and palatable plantain treat is made by combining flour, eggs, butter, shortening, salt, and a few drops of ice-cold water.
For the mouthwatering filling, very ripe plantains are combined with sugar, egg whites, vanilla extract, grated nutmeg, and a few drops of red food coloring.This is tantalizingly delicious.
11. Ripe Banana Fritters
Overripe bananas never go to waste in most Jamaican homes. They are used for making banana fritters. These heavenly tasty tidbits are made by combining (okay, you guessed it) bananas with flour, brown sugar, eggs, vanilla essence, nutmeg, and baking powder.
The bananas are crushed, almost to a cream and the eggs beaten and added in one bowl, while the flour, baking powder, sugar, and nutmeg are combined in another. The two mixtures are then added together, and perhaps some extra flour for a thicker mixture if necessary.
Small amounts of the batter are then dropped into a frying pan with oil and fried until the batter is a rich golden brown and crisp on the edges.
12. Rum and Raisin Coconut Cheesecake
This divinely delightful treat is made from shredded coconut, cream of coconut, cream cheese, whipping cream, eggs, sugar, butter, biscuit crumbs, lemon juice, rum, raisins, and vanilla extract.
The biscuit crumbs are mixed with the coconut, lemon juice, and butter in a bowl and then the mixture is pressed onto the bottom and up the sides of the bowl.
In another bowl, the cream cheese and sugar are beaten until well blended. Eggs are added one at a time, beating well after each addition. The cream of coconut, whipping cream, lemon juice, vanilla extract, rum, raisins, and some of the coconut are then added and beaten until well blended. The filling is then poured into the crust and baked at 325 °F for about 1 hour and 25 minutes until puffed and set in the center.
The cake is then transferred, allowed to cool, and refrigerated overnight. The remaining coconut is sprinkled on the cake.
13. Rum Cake
It comes as no surprise that Jamaican rum cake is very popular in Jamaica. It is made with flour, butter, eggs, sugar, breadcrumbs, lime rind, mixed spices, grounded or chopped raisins, prunes, and currants; rosewater, sherry (or blackberry brandy), wine, and (no prizes for guessing) a generous amount of Jamaican overproof rum.
For reasons not immediately clear to anyone, the preferred shape of the rum cake is traditionally that which emerges from being baked in a Bundt cake pan. This delectable treat is often served with ice cream.
14. Soursop Cheesecake
Cheesecake lover or not, the creamy, enchanting, no-bake soursop cheesecake is easy to make and hard to forget. It is made by combining the pulp of the soursop (called Graviola in some countries) with cream cheese, butter, biscuit crumbs, condensed milk, lemon juice, and gelatin, dissolved in hot water.
The melted butter is mixed into the biscuit crumbs in one bowl, while all the other ingredients are mixed in another bowl with a beater or blender until smooth. This mixture is then poured onto the biscuit base and it is chilled until set.
Who could want an easier and more delightful way to pamper, tease and caress the taste buds?
15. Soursop Ice cream
This zesty, full-flavored treat is made from the soursop fruit by combining soursop juice (or soursop puree) with heavy cream, egg yolks, sugar, condensed milk, lime juice, and vanilla or almond extract. If you have an ice cream maker, it certainly makes it much easier.
If not, a blender, a whisk, or a mixer works just as well. And you can use a simple ice cube tray for freezing. Just cover it with plastic wrap, and soon your delectable dessert is ready for tasting.
---
Related: Most Popular Jamaican Foods
Related: Most Popular Jamaican Drinks