Chef of the Month: Chef Ana Roš, Hiša Franko, Slovenia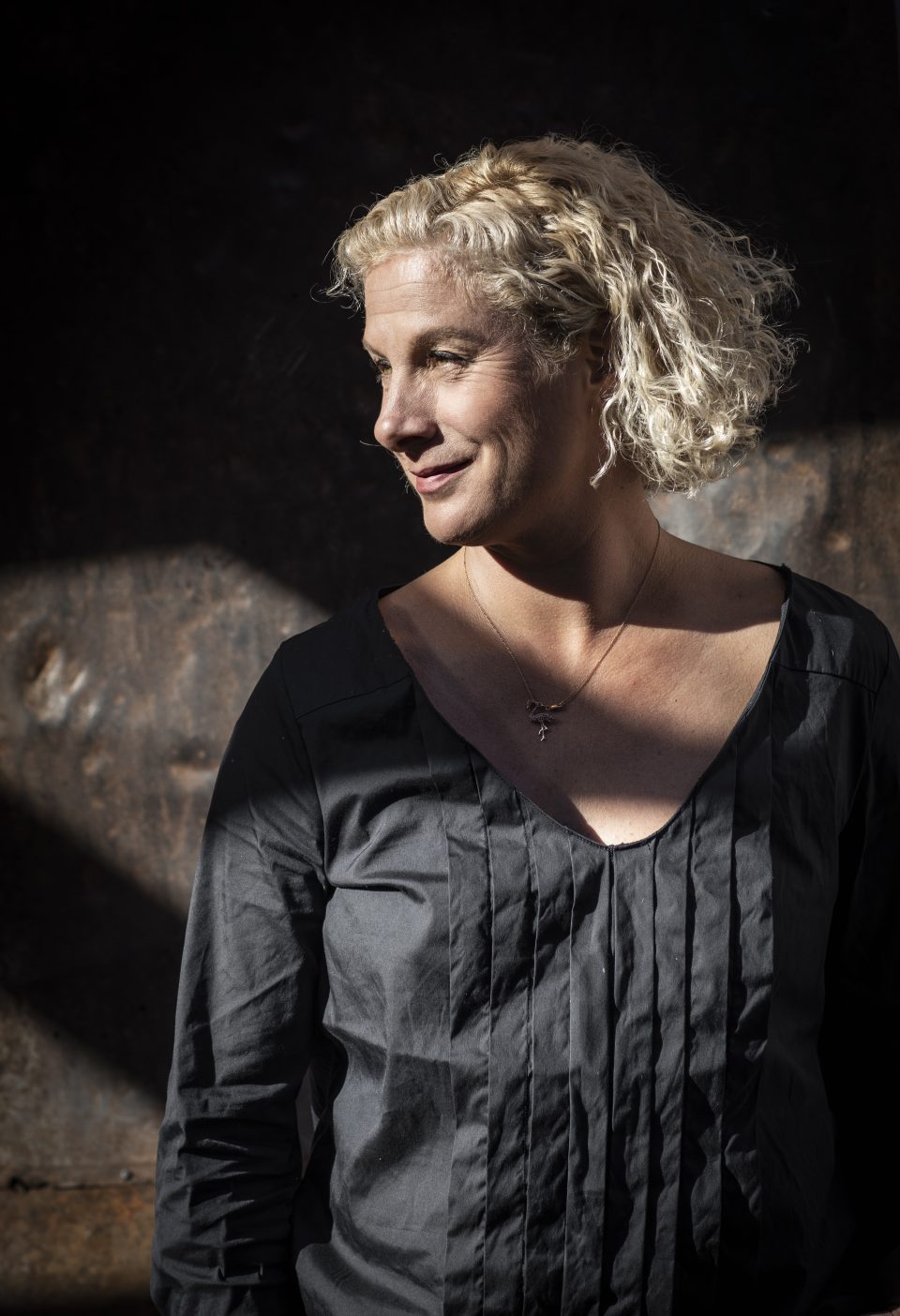 Like so many of you, we have devoured Netflix's second season of Chef's Table, and one of our favorite chefs was Ana Roš.
We loved her life story – the daughter of a journalist and doctor, studied diplomacy and destined to become an ambassador, but life, and love, brought her instead to the kitchen.
The early struggles, the doubt, the perseverance, culinary genius, but also modesty made us fall in love with her.
But as Ana told us, by the time Netflix discovered her, she was already a super star on the European foodie map.
And Ana's fantastic work and success also put her small, but wonderful home country of Slovenia on the map of the world's top food destinations.
Chef's Pencil talked to Ana about her lifelong journey, Hiša Franko, Slovenian food and advice for aspiring chefs.
1. What inspired you to become a chef?
When I was a child I never dreamed about being a chef. I probably did not even know what "chef" meant. I went to the linguistic high-school and later on I started studying international science diplomacy where I graduated with excellent grades.
After that my life story moved me into another direction, where I met Valter Kramar, my partner. I fell in love and I followed my heart more than my life's decisions.
I somehow started to integrate myself in reality which was a simple restaurant in Slovenia. There was nothing that I could define as radical or something that I had dreamed about, but it was as simple as following our life path.
2. Where did you train to cook?
I never trained to cook. I am a completely self-taught cook. I never did schools or cooking classes and that is why my kitchen is very different from most other kitchens.
3. What is something that few people know about you?
I think all chefs have this image of being very tough and being somehow very strong when they make different decisions.
The truth about me is that I have a sensitive personality. I am hurt very quickly and I think this vulnerability is not something that you would think of when you see me for the first time, but it's actually something that defines me a lot.
4. You've become a worldwide star after your appearance on Chef's Table. How did this impact your career and your work at Hiša Franko?
Well it is very difficult to say if Chef's Table has been one of the big changes in my life, because you have to ask why would Netflix pick us to appear in a second episode, so that must have been a story already.
Maybe Hiša Franko, as a lot of other heroes of European cuisine, were not well known in the American market, but in Europe I think Hiša Franko has had a strong presence since 2011/2012, at least on the map of European foodies.
Netflix is huge and it absolutely changes a lot of things that can happen in your life. One of them is surely the visibilty all around the world with millions of people watching it and is always there. The difference between Netflix and other documentaries or series is that they come and go but Netflix is always there. It is similar to building a monument because the monument will be always there.
It has had a crazy huge impact as we expected. It has changed our lives because we had to change the structure of the way we work, the way we had the restaurant, but we made it and we survived the "Netflix tsunami."
Today, I believe that Hiša Franko is one of the nicest restaurants, in the world, regarding the way we treat our team and guests.
5. How great is the pressure to perform for someone that has been frequently featured among the best chefs in the world?
Well it really depends on the personality of the chef. I would say personally I feel a great deal of pressure when I have to perform in front of children, like at a local school that does a bread course with me.
I believe that when we perform and teach someone we need to be the best. The tension is always high and it is us who create the tension in ourselves, not anyone else.
6. Tell us about your work at Hiša Franko? What is the concept and what was the inspiration for this season's menu?
This season's menu lasted only 3 weeks, as far as I remember. Due to the COVD-19 pandemic we had to be on lockdown. It was probably the most beautiful menu ever at Hiša Franko. It was a very different menu with a switch from the idea of a big world.
On the idea of territory and seasons, we actually implemented the idea of traveling the world, which has been a huge part of my life and I am still very proud of the creations we did. I am pretty sure we will soon cook them again.
I believe that when we cook we never repeat ourselves, we are never boring with our creations and we are always opening new doors.
Every season we are better chefs, better cooks, and we give a lot more to people.
7. What's the most popular item on the menu?
Probably there is no popular item on the menu because the menu changes so often, but maybe I could say that the bread is the one that gets a lot of attention.
We have some of the most amazing bakers in the world of restaurants.
I think most of the clients are excited about the bread when it comes to the table so they combine it with different kinds of butter. It is really delicious.
8. What future plans do you have for Hiša Franko?
It is very difficult to talk about future plans in this moment, when all our activities are stopped in the restaurant due to lockdown and we are wondering when we will be able to reopen.
But the truth is that we have big plans. We just opened our shop and natural wine bar.
I think the biggest thing that will be happening is a new line of products that we are launching these days. They have incredible sizes and amazing quality. It is something that maybe you will find on the world market very soon.
9. Tell us a bit about Slovenian cuisine? What makes it special and what are the top Slovenian dishes we absolutely need to try?
I think Štruklji, the Slovenian pasta, which is filled with potatoes and pork. It is incredibly good, especially if you combine it with Lamb Ragu.
I would say that the only Slovenian dish produced in all parts of Slovenia is Štruklji. It can be different in every place and every corner. In our case it can be that it is filled with walnuts, bread crumbs, and cinnamon and is boiled, but in other parts of Slovenia it can be filled with cottage cheese and tarragon. It can be sweet or salty.
We don't know exactly why we call it Štruklji because it has so many different shapes but when you say Štruklji to a Slovenian you say something delicious and good.
10. What do you regard as the quintessential Slovenian ingredient?
I think that the most important Slovenian ingredients are probably those that stay in time. Here I am talking about the sausages, salami, and even cheese.
I would say that these ingredients you can always find in a Slovenian storage.
11. You are regarded as one of the best chefs in the world. What sets a top chef apart from the pack?
I believe that a good chef is the one who is an opinion maker, who has clear ideas and is making his own stories which are not only an interpretation of what he finds around him but are an interpretation of his own stories.
Even if we try to copy top chefs, we never can actually be like them because you cannot copy the personality of someone else. All the best chefs around the world are very opinionated and have strong characters.
12. Do you have a signature dish or a favorite dish that you enjoy cooking?
Hiša Franko does not have a signature dish because we change the menu all the time and it is one of the most creative kitchens around the world. If you ask me about the dish I really enjoy cooking, I would say that I really like prepping.
I like being in a prep moment, and I don't like service so much. Prepping for me is real cooking, when you have to find the balance with different ingredients.
Creating recipes is such a difficult process because you mature and you are on a time limit. Service is another thing. It can be more mathematical. But I believe that the real creativity is in the preparation.
13. Do you follow food trends? If so, what is the top trend for 2020 and what's next for 2021 and onward?
Hiša Franko does not follow food trends because I believe that Hiša Franko is one of the trendsetters.
We are so emerged in nature and the wild that we can't really cook in a different way than we are doing right now. It is also very difficult to copy-paste a dish because nobody else has the environment that we have around us.
If you ask me what is going to happen in 2021, I believe that everyone will have to find their own personal stories.
I don't know how the industry is going to accept this because we all are moved by the interest of the industry but it is a very necessary step.
We will have to understand that an African Chef will never be able to cook or plate in a Scandinavian way or a Scandinavian is not able to cook Mediterranean cuisine.
I think it is going to be necessary because this virus, COVID-19, will stop us traveling or moving so fast around and the boundaries will be there again. We will be different again.
14. What advice would you give someone who wants to become a successful chef?
Be motivated, be disciplined in everythnig you are doing, believe in yourself and never give up.
---
Chef Ana Roš
Hiša Franko
Staro selo 1, 5222 Kobarid, Slovenia
Facebook | Instagram
---
Featured photo credit: Suzan Gabrijan;