Best 10 Slovenian Dessert Recipes
The Slovenes love their sweets and are always spoilt for choice when it comes to satisfying their sweet tooth given the diverse selection of desserts on offer. Be it a homemade cookies or traditional Slovenian cake or pastry, there is always a sweet accompaniment with morning or afternoon coffee, if not a dinner replacement!
Desserts are enjoyed possibly every day in Slovenia and are essential during holidays such as Christmas and Easter.
So let's sink our sweet teeth into Slovenia's most popular and prized desserts.
1. Sweet Dumplings (Sladki Štruklji)
Slovenia's most coveted štruklji are roulade-shaped dumplings that are baked or boiled and enjoyed in both sweet and savory varieties. The standard štruklji are filled with curd cheese (and sometimes with added sugar and rum-soaked raisins) and topped with fried breadcrumbs and honey.
This staple dessert is a given in almost any restaurant and gostilna, or mountain hut, in Slovenia.
The versatility of this dessert lends to dozens of filling varieties, with the most popular being walnut, tarragon, apple, and poppy seed.
If you want to be extra adventurous with the fillings and toppings, I suggest you visit Slovenia's special dumpling house, Moji Štruklji Slovenije (translated as My Slovenian štruklji).
It is famous for its creative variety of gourmet štruklji with fillings from dark chocolate and orange to pistachio or wild chocolate and coconut. A welcome bonus is that all are served with delicious toppings that pair perfectly with their respective fillings. 
2. Potizza or Nut Roll (Potica)
Potica is Slovenia's most famous dessert and is more commonly enjoyed during Christmas and Easter. It is perhaps the mother of all desserts given that it appears on every menu and is the most representative of Slovenia's sweet delights.
Any baker with Slovenia in their heart will strive to make the most delicious potica, and every baker will bake it slightly differently.
The mainstay is the dough that is rolled over a walnut filling to form a roulade-like or roly-poly shape. And the variations? Some are drier, while others more moist, some come with added rum-soaked raisins, others with extra generous doses of walnut filling.
Variety doesn't stop here. As with štruklji, potica can be prepared with at least 80 different types of filling. But to spare you from the long list, the most popular are tarragon (pehtran), walnuts, cracknels (ocvirki), and poppy seeds (makova semena).
3. Donuts (Krofi)
Who doesn't love a good old donut? And yes, they are popular in Slovenia as well, especially during carnival time (which they call pust). Slovenes are most fond of donuts with chocolate or apricot jam filling, and those with a custard cream filling and a coating of chocolate and coconut shavings.
There's one particular place in Slovenia that is especially known for its donuts—Trojane, which is located about a half-hour's drive east of Ljubljana. In fact, no trip to the east of Slovenia is complete without a visit to the famous Trojane donut shop.
4. Bled Cream Cake (Kremna Rezina or Blejska Kremšnita)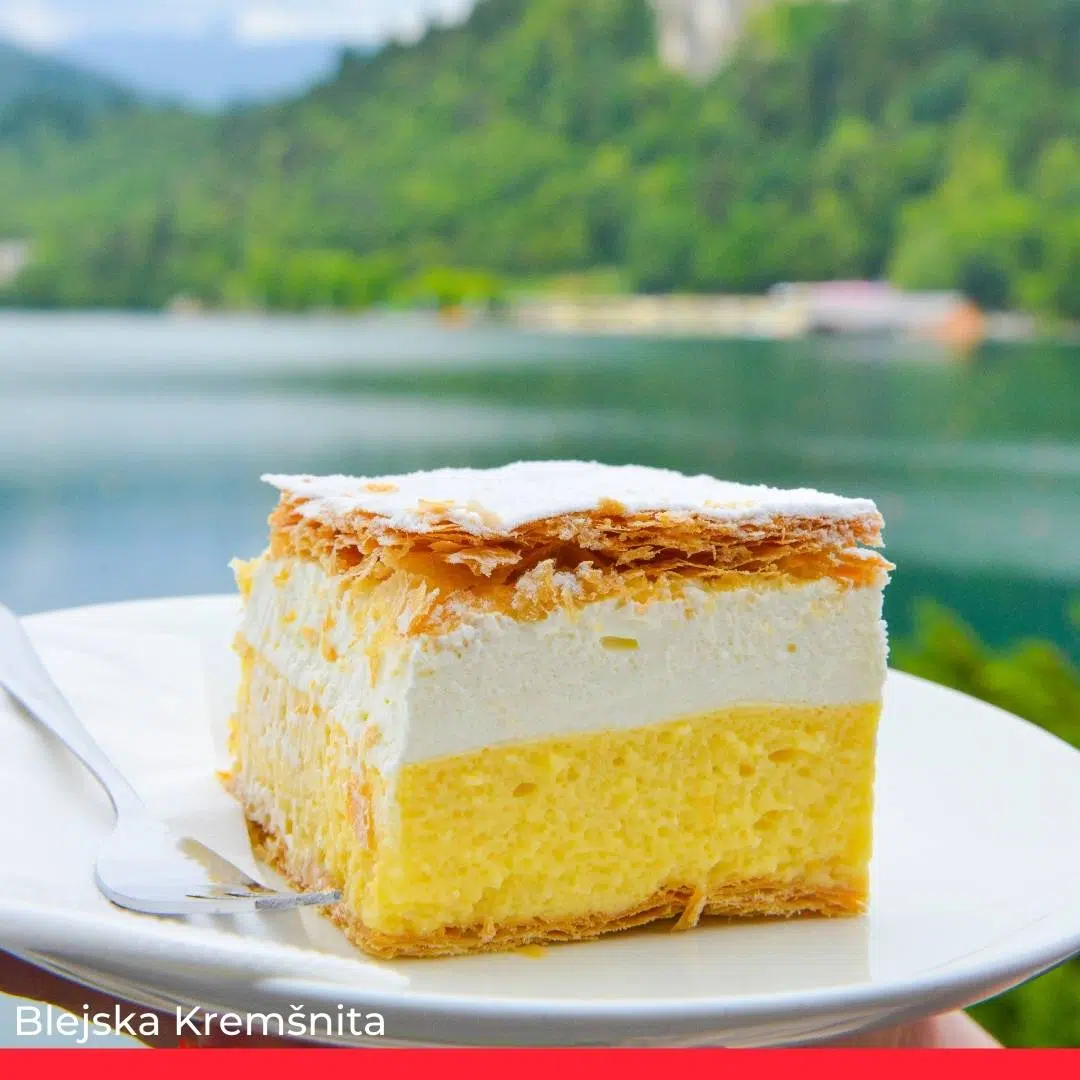 A very popular dessert, not only in Bled but also in many other parts of Slovenia, is Bled cream cake.
It is made from two layers of puff pastry (one on top the other on the bottom) and is filled with sweet vanilla custard and cream. It was invented after World War II and is now Bled's main culinary specialty.
5. Strudel (Štrudelj)
One of Slovenia's most common desserts is apple strudel, which is baked in restaurants and households alike, especially during the apple harvest.
It is a traditional dessert in all Alpine regions, though the recipe originated in Vienna, Austria in the 18th century and spread to all neighboring countries and the former Habsburg Empire.
It is made with a rolled out dough filled with grated apples and spices. Cherry strudel is also very much enjoyed in Slovenia.
6. Ljubljana Strudel (Ljubljanski Štrukelj)
The recipe for this dessert originated, with the name Ljubljanski Štrukelj, in the most popular Slovenian cookbook written by Felicita Kalinšek, which has been reprinted a number of times since the end of the 19th century.
It comprises a yeast pastry dough filled with apricot jam, candied orange peel, and almonds.
7. Prekmurje Layered Cake (Prekmurska Gibanica)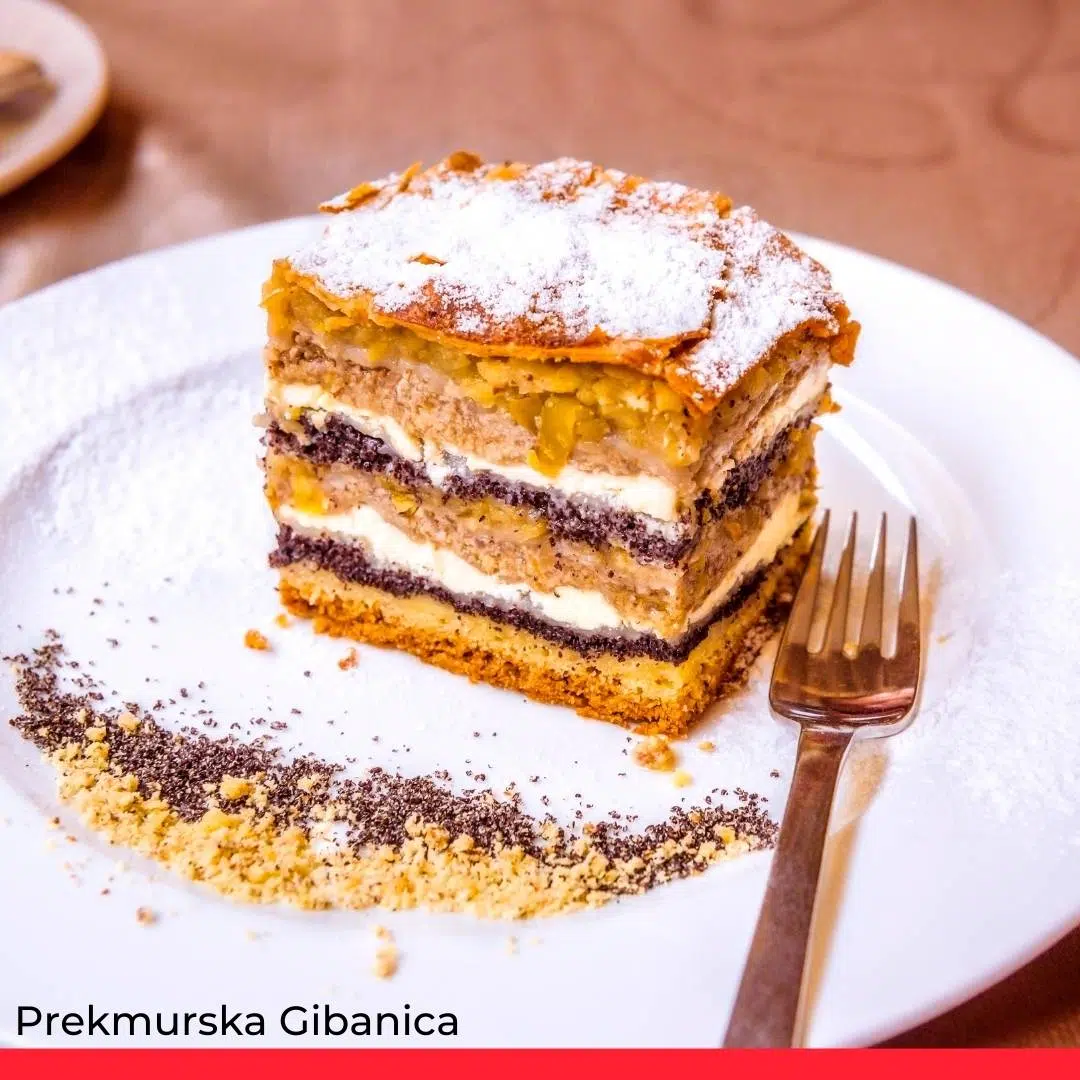 This excellent, juicy, and most widespread Slovenian dessert from Prekmurje is stuffed with poppy seeds, curd cheese, walnuts, and apples.
It is trademarked as a foodstuff with an indication of traditional reputation, and therefore can only be made under the name Prekmurska Gibanica if the original protected recipe is respected in full.
8. Slovenian Sweet Omelet (Pohorska Omleta)
The Slovenian sweet omelet is the most famous dessert of the Slovenian region Pohorje, a mostly wooded, medium-high mountain range south of the Drava River in northeastern Slovenia.
The dessert was invented in a Poštarski Dom mountain hut in the 1950s and is made from eggs, sugar, vanilla sugar, salt, flour, rum, cranberry jam, whipped cream, and mint liqueur. The eggs are mixed with the salt, sugar, rum, and flour, and made into an omelet that is then oven baked.
Once baked, cranberry jam is spread on top and it is decorated with whipped cream and sprinkled with mint liqueur. It is best served warm and freshly baked.
9. Blejska Grmada
Blejska grmada is a traditional Slovenian dessert originating from the famous Bled area. It consists of a base made with eggs, sugar, flour, baking powder, and cocoa, and a sweet topping of milk, eggs, sugar, flour, vanilla sugar, heavy cream, walnuts, chocolate, and fruit such as berries.
The base is usually moistened with rum (or fruity liqueurs) and milk, and it is topped with chopped walnuts and fruit, followed by another layer of the base and topping. For serving, Blejska grmada is scooped up with an ice cream scooper and topped with whipped cream and/or melted chocolate.
10. Pancakes
Pancakes are an all-time favourite, even in Slovenia. This international dish takes on a local flavor here with a filling of cottage cheese and tarragon, covered with an egg mixture, sprinkled with breadcrumbs, and browned in the oven.
These cottage cheese and tarragon pancakes became popular in the 19th century and often form part of a traditional Ljubljana dinner.
---
When enjoying a meal in Slovenia and you're done with your mains, do indulge in one of the traditional desserts. And if you think you may not have the space for a sweet ending, you might want to consider skipping the mains and jumping right into the dessert! Dober tek!
---
Related: Most Popular Slovenian Foods