Best 12 Designer Chef Coats & Brands
Strut your way into the kitchen with these designer chef coats! Is it all about the taste, the flavor, and the ingredients? Nowadays it seems as though it's also about how posh the kitchen is. Not to mention the chef!
And that seems fair to us: a nice, comfortable, and fashionable piece of clothing can pump up your confidence, game, and creativity.
And yes, a chef needs all those to prepare a high end dish! And while some time ago the chef's style was not the focus, currently food is simply more than just food.
Food is an experience now and high-end cuisine goes hand in hand with high-end fashion.
It's so much more than grabbing a bite! Dining is an experience. It's all about feeling, awareness, consciousness, nourishing all the senses. Chefs work hard to create an experience for the customer, and we believe it is chefs' experiences in the kitchen that define our plates. After all, it is the ingredients but it's also the energy put into the dish.
So maybe chefs, bakers, and cooks simply need to feel better in order to make your taste buds go yum!
While recommending a happy, motivating technique can be hard, we can add some sparkle and swag with the perfect uniform. Check out the most fashionable designer chef coats to make your cooking good looking!
Designer chef coats for more than just cooking
Restaurant owners and chefs are more and more attuned to offering the best experience for customers. We are talking about a new aesthetic in professional kitchens: it's all about comfort, functionality, and style.
While there was a point in the culinary and hospitality industry when chefs' uniforms were all about the comfort and no style whatsoever, the openness of the kitchens, the visibility of the chefs and even the cooks delivering the food at the table has changed all that.
Chefs have become more visible, more important. Clearly their outfits have to step up to the challenge.
Chef coats are the most important part of the uniform. While many cooks and chefs try to cook in their streetwear clothes, it is rather difficult. A chef coat helps maintain cleanliness and its fabric also protects from all the heat during the cooking process.
And when we add in the style factor, a chef's coat is also a staple of the restaurant and of his or her style. That is why we browsed the web for some of the best designer chef coats: to bring on the comfort, the function, and the glitz 'n glam of being a chef.
1. Tilit
Ask 10 American chefs what's the most chic chef wear brand out there and half will tell you Tilit.
Alex McCrery, the founder of Tilit and chef-turned-designer, started small in 2012, but now, less than 10 years later, Tilit is one of the most respected chef wear brands.
McCrery, after a 16-year career as a chef, stepped into the private world of cooking. Realizing he no longer had to wear a traditional (read ugly and bulky) chef's uniform, he searched for cooler alternatives. Since he couldn't find one, he decided to build a fashionable chef wear line himself.
It's all about fashion and functionality with Tilit, and performance enhancing details: pockets with sharpie slots, side ventilation panels, side tabs, longer backs for an adjustable and flexible wear, all in textures that stand the kitchen heat and actually feel great!
Comfort and durability is of course top criteria for the restaurant industry! And style closely follows! Want to feel great and comfortable as you cook for 10 hours a day while looking posh as ever? Yes, please!
Tilit starts from $55 per jacket and they provide both male and female models.
2. Le Nouveau Chef
With jackets ranging from 25 euro ($30) to 120 euro ($143) , Le Nouveau Chef makes some of the most beautiful and stylish chef coats out there.
Fashion is at the heart of this Dutch-based apparel company and it makes a fantastic job bridging style with functionality.
Interesting cuts and fits, asymmetric lines that flatter the figure, classic cuts… but also bold tailoring, seaming, and textures!
Go for a classic white cotton coat or maybe one with a fancy collar, or perhaps go for denim or a T-shirt inspired chef coat. It all depends on what kind of chef you are and which trends you embrace: always chic and classical or sporting a bold edge. Let your outfit do the talking with Le Nouveau Chef items!
The brand prides itself on being sustainable and environmentally-friendly working with BIO, fair trade, and recycled fabrics – one more reason to own a beautiful Le Nouveau Chef jacket.
3. Blackwood Career Apparel
Stylish and affordable? Welcome to Canada's Blackwood Career Apparel, a Vancouver-based chef wear company.
Blackwood Career Apparel, founded by Christine Blackwood in 1990, has been producing high-quality apparel and chef uniforms for over 30 years with a focus on performance and style.
Canada's finest when it comes to chef's coats, the design ranges from classic, evergreen cut to trendsetting. Blackwood Career Apparel provides clothes and accessories for back and front of the house, for both men and women.
4. Bragard
French chic anyone? France has long ruled fashion and Bragard, the France-based chef wear brand, stands true to its fashionable roots.
Classic, double-breasted coats or modern, kimono inspired tunics in hot, bold colors and even whimsical patterns – they can all be found at Bragard starting at about $60 a piece.
Bragard was founded in 1933 and it's one of the most well known chef wear brands worldwide. Its Grand Chef jacket launched in 1971 was a reference piece of great French chefs.
Bragard combines style and highly functional details with comfortable wide sleeves to provide freedom of movement. They use magnetic fastening, under arm air vents for proper cooling and heat management, and they always use durable materials for luxurious and high-quality clothing.
If you want to own a stylish piece of clothing that breaths history, Bragard is the top choice for you.
5. Hedley & Bennett
Worn by Martha Stewart and David Chang, Hedley & Bennett is probably one of the most popular chef wear brands.
When it comes to designer chef coats, Hedley & Bennett strive to make everyone feel their best in the kitchen. It's all about flexible movement and the perfect fabric with these guys! And let's not forget they really invest in materials that keep you cool in the hot kitchen.
While they might be on the pricey side (coats cost $139 a piece), Hedley & Bennett are renowned for long-lasting quality and that perfect tailoring that means you won't think for a second that your clothes will keep you from doing your job.
6. Culinary Classics
If you truly want to be an original, here's your shot! With Culinary Classics you can define your brand and you can personalize everything to better suit your needs and wants.
While not for off-the-shelf people, it is the perfect choice for unique approaches. The prices start at about $60 per item.
Here's how it works: you start with a basic coat and then you configure your own model, choosing the collar, texture (we love the fact that they also have plenty of color and patterns), and even the buttons to create the perfect coat for you.
7. Le Chef Uniforms
There are so many things to be said about Le Chef Uniforms that we can't even decide on how to start!
They aim to keep people and the planet safe and their work ethic revolves around keeping things as least wasteful as possible. They focus on providing the best quality at the best price and they do make a difference when it comes to tailoring. Great, durable fabrics and resistant stitches, easy wash textures and bleach resistant textures and let's not skip their amazing range of products!
They provide waiters and cafe uniforms but they also create coats and chefs' apparel. They have classic collections that never go out of style but they also go for streetwear inspired lines that can be worn for fine dining as well as on food trucks. They provide light-weight uniforms made out of fast drying fabrics that keep you cool and ready at all times; yes, even when you are juggling twenty plates at once!
They also create stretchy clothes that work amazingly for dynamic chefs. And they do so starting at less than £20 per item!
8. Chef Wear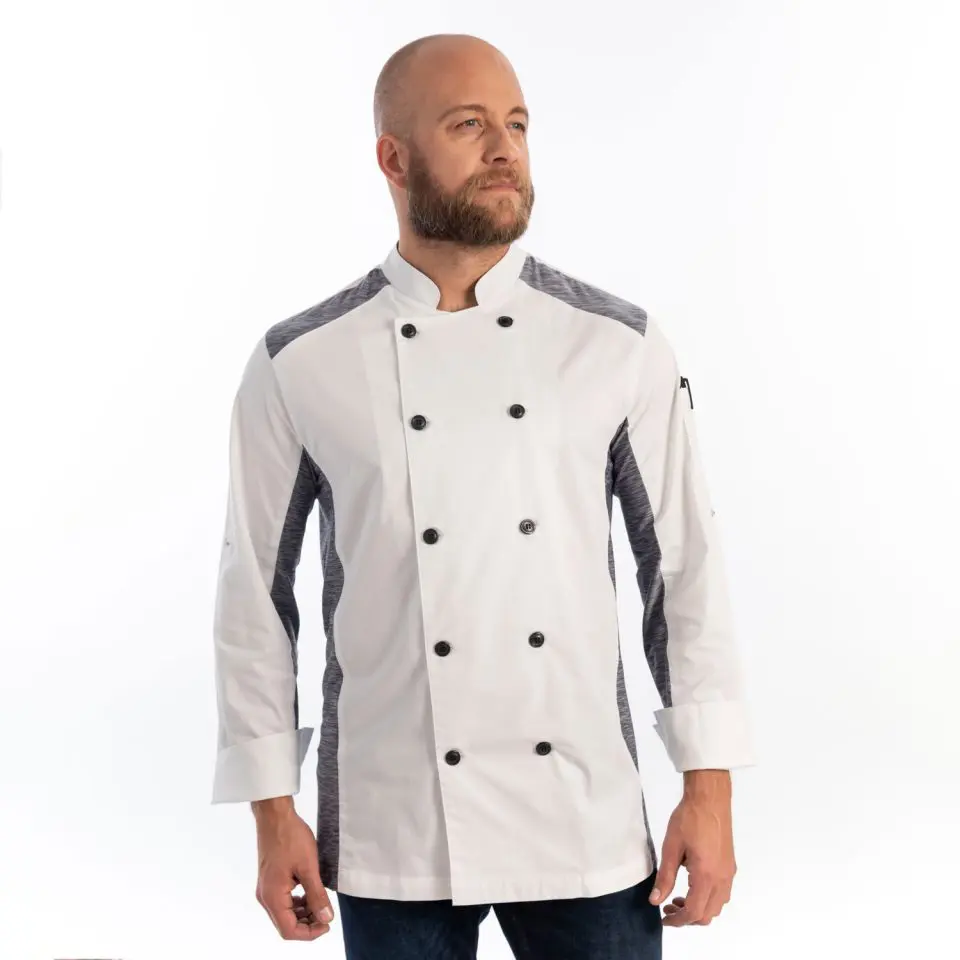 The uniform you wear must perform! Whether it's your coat, apron, or pants, a chef's apparel is the extension of the work he or she does – a symbol of their personal brand. This is the belief behind Chef Wear apparel.
When it comes to fit and colors, Chef Wear goes for classic with a twist. They create apparel for men, women, and even unisex models and their prices go up from less than $20 a piece. That's quite the bargain for designer chef coats right there!
9. Clement Design USA
Coats, masks, pants, hats, aprons, and comfy shoes: all with Clement Design USA!! The philosophy behind the company is to combine the finest fabrics and the best cuts and fits to offer freedom. They aim for creativity and to reinvent and revolutionize chef apparel. Kimono-inspired tunics, T-shirt inspired jackets, double-breasted coats, and elegant shirts, usually in black, white, and grey, make Clement Design USA a very appreciated brand.
They create chef apparel for both men and women (and yes, the women's clothing line is so much more fashionable and stylish, ladies!). They go for about $80-100 a piece, but that's a mid-range price as they also have items that are cheaper and some that are more expensive.
10. Lost Car Chef Apparel
Lost Car Chef Apparel creates men, women, and unisex chef coats. They are distinguished by their fashionable and stylish approach. They aim to give you an edge above the rest. And let's not forget, their tailoring really makes the body look amazing. One should also choose them for their breathable materials and stretchy areas that make all the difference for movement in the kitchen.
They also commercialize accessories and they are quite cheap, money-wise. At Lost Car Chef Apparel you can find designer chef coats at a shocking $12 per item.
11. Chef Works
Face coverings, hats, suits, shirts, trousers aprons, and jackets, Chef Works has them all! They start with items costing less than $20 and can reach up to $140 per jacket. It depends on taste and budget.
Chef Works provides an urban line for the young and rebel chef, a cool vent collection with technology that has been proven to manage heat and moisture, and a contemporary fit that can offer the perfect kitchen attire for the present.
Comfy, well fitting, and with a great range suited to culinary trendsetters all around the world as well as food trucks.
12. Kentaur
Functional designs, a quite minimal and Nordic approach, and a simple, basic yet attractive look. Wearing Kentaur, the long hours in the kitchen will not seem so long since they always strive to offer chefs what they need.
With a price range that starts at about $40 per piece, Kentaur develops their collections by chefs for chefs. Their coats are created from durable fabrics and they take pride in their long shelf life. Even after many hours of work, a Kentaur coat still maintains its sharpness. The designers of this brand are constantly in touch with chefs in order to design in comfort and to optimize quality.
Why Fashion Matters in the Restaurant Industry
TV shows have transformed the culinary industry and top chefs all over the world have become local or national celebrities. Chefs have begun to build their own brands, and fashionable clothing, as well as food styling, has become an important part of that.
Designer chef coats, jackets, pants, aprons, and accessories can all contribute to creating the perfect brand. While comfort and safety still need to be the major factors when choosing a chef coat, many brands have managed to add style without sacrifices.