What Does Rhubarb Taste Like?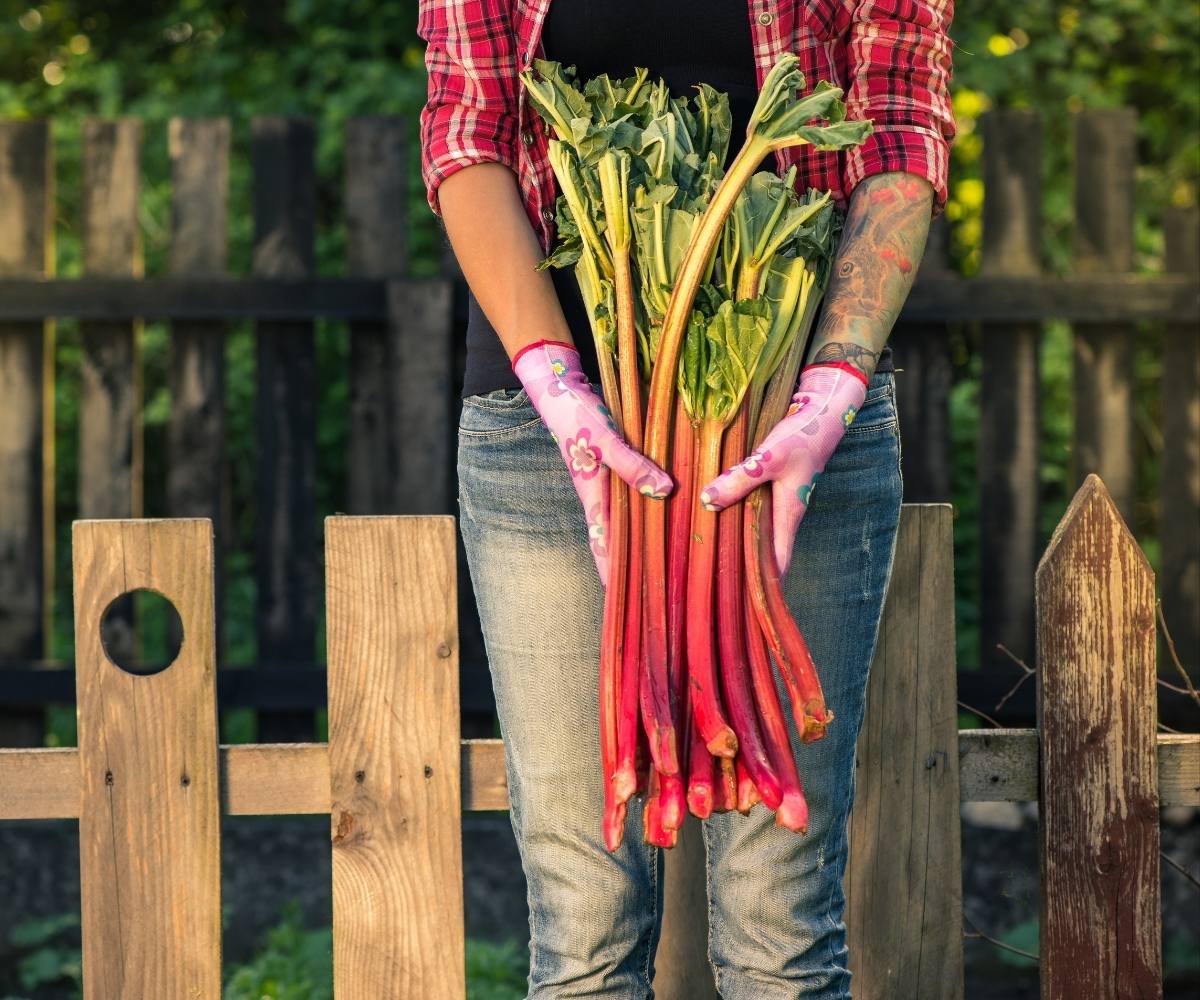 We've been treating it as a fruit. And that's probably because rhubarb is not only considered a spring fruit but it is also prolific during that season. In fact, it's not a fruit and, what is more, it doesn't only have to be used in desserts.
Since we're in full rhubarb season, we thought it time to give this fruit, uhm, vegetable, the attention it deserves! What does rhubarb taste like?
This pinky-green vegetable looks very much like a colorful celery. Sure, it's most popular in tarts, compotes, pies, preserves, aka desserts. But its tart, sweet yet sour and tangy flavor isn't solely meant to be cooked in sweet dishes. Actually, we think it's quite sad that this vegetable got the nickname "pie plant". We believe in you, rhubarb! You can fully express yourself just as you are! We're rootin' for ya!*
Rhubarb was legally ruled a fruit by a New York customs court judge in the 1940s and the U.S. Department of Agriculture (USDA) officially classifies it as a fruit.
What is Rhubarb?
While it's been reduced to the status of pie plant, rhubarb is, in fact, a perennial vegetable. It thrives in northern states, from Maine to Illinois and Washington state. Worldwide, rhubarb is cultivated in China and Europe, requiring cold winter weather in order to thrive.
While rhubarb might look like, the veggies are not in the same family.
With pink, green, and magenta touches on its stalks, rhubarb makes a great addition to your food palette. The plant has big, green leaves, but be careful not to eat them because you'll end up with an upset stomach as they are poisonous. However, when it comes to the colorful stalks, that's a whole different story! If you like the taste, that is!
What does Rhubarb Taste Like?
With a crunchy bite when raw, rhubarb tastes rather sour, although a better term to describe it would be "tart". Its sour and tangy taste is a combination of citrusy sweet fruit sourness of limes and lemons.
Its puckery taste resembles the effect of green, unripe apples, prunes, and grapes. But this vegetable also packs a certain sweetness and fruity flavor and sometimes even a bitter note, not just an acidic aroma, depending on the plant.
Cooked alone, rhubarb is quite sour and tangy and it puckers up the mouth, which is why it's usually cooked with sugar and sweet fruit such as strawberries, a lot of strawberries. A LOT!
But its puckery-tart fruity flavor doesn't have to be paired with sweet ingredients! It actually goes great with lamb chops, pork, and any fatty meat for that matter! And why? Because of its unique taste, of course. So "what does rhubarb taste like?" Well, it depends. You first have to consider the type of rhubarb. And this is important to remember when you are buying:
There's forced rhubarb, which you'll recognize by its long, pink stalks and its lime green or yellowish leaves. This type of rhubarb has a mild, delicate flavor. So if you're trying rhubarb for the first time, go with this one!
And then, there's maincrop rhubarb which is thicker and has that deep red, magenta color with bright green leaves. This one has an intense, pronounced flavor, and a crunchier texture.
How to Use Rhubarb
While it's usually cooked with complementary ingredients to reduce its sourness, rhubarb's aroma and taste is quite unique. But it's not only its flavor that stands out! After removing the leaves and washing the stalks (peel the ends but do not peel the skin, since you'll be losing a lot of the aroma and color the "fruit" holds) and you begin to cook the rhubarb, you'll notice it forms a viscous, jelly-like juice.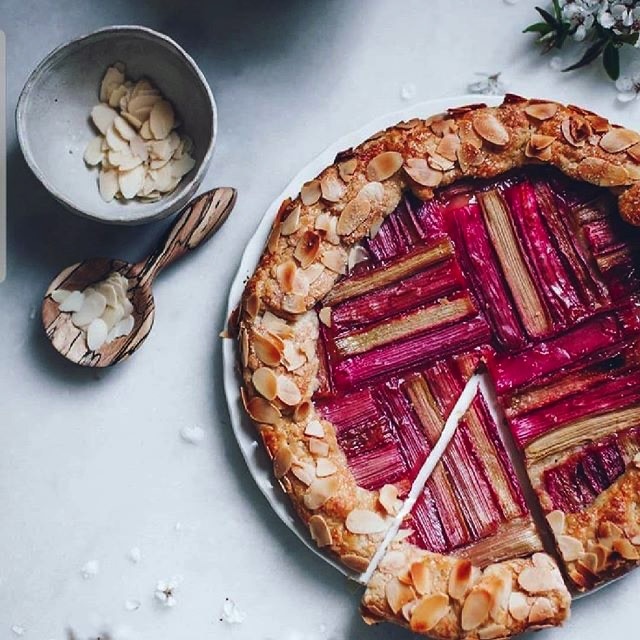 What is Rhubarb Suited for:
The taste and flavor of rhubarb changes while it cooks. Its texture too. Its juices thicken, its crunchy, celery-like bite transforms, and the stalks fall apart, becoming translucent. And if you cook it a lot, you'll get the perfect consistency for preserves and chutneys—if you add sweet ingredients, that is! However, you don't have to cook it a lot since short cooking helps maintain the tender texture and rich flavor.
While you might not think so, rhubarb is rather versatile when it comes to the meals you can use it for. There are many recipes with rhubarb you can try. Its intense tartness complements savory dishes, while its fruity aroma is what makes rhubarb pair great with sweet ingredients in desserts.
What to Use Rhubarb for:
While it is most popular in jams, purees, preserves, tarts, and jellies, rhubarb can be added to sauces, salsas, and relishes for a tart-sharp aroma. It can be used in roasted snacks with other vegetables (roasted rhubarb + asparagus = love).
It goes well in thick, rich stews for that extra fresh, lemony sourness and for creating a creamy, jelly-like texture in sauces. It can also be eaten with various dips. And let's not forget that finely chopped or grated rhubarb stalks are a great addition to your salads. You can also eat it as it is, simply dipped in honey, sugar, or maple syrup. And you can also prepare candied rhubarb, baking some julienned slices of the plant, generously covered in sugar.
Rhubarb can be cooked in soups and it can even be added to homemade ketchups for an extra zing! And have you tried pickled rhubarb? Woaaah! It's the best with meats and especially barbeques. And if that wasn't enough: cocktails! Rhubarb goes great with alcohol and especially well with mint and ginger, but don't let us rob you of the joy of discovering your own signature rhubarb cocktail!
What does rhubarb taste like? What to pair it up with? Can you eat it raw? Now you know all there is to know about this plant.
Now, hurry up and go find yourself a pinky-green batch of fresh rhubarb, since it'll be available only until June. While there's a second harvest during June and July in the Pacific Northwestern region, don't miss out on the chance to experiment right now!