15 Good Vegetable Oil Substitutes to Have Around
Its neutral, natural flavor, its high smoking point, and its affordable price make vegetable oil a great choice for cooking, baking, and even salads. Still, there are times when, for one reason or another, we may find ourselves in need of vegetable oil substitutes. For such cases, please use our suggestions below.
But first, what is vegetable oil really? While any oil made from plans is technically vegetable oil, whenever you see a bottle labeled as vegetable oil, it's almost always soybean oil, though sometimes it's made from corn, canola or cottonseed.
It's called 'vegetable' so that the manufacturers can substitute whatever commodity oil they want without having to print a new label, according to Liz Weinandy (via Time Magazine), a registered dietitian at The Ohio State University Wexner Medical Center.
While you'd think it's not that hard to find a replacement, and you'd be right, keep in mind that not all oils are equal. Some may fill your kitchen with smoke as they have a low smoking point. Others may impart your dish with an aroma that's too overpowering. Nobody wants a brownie with an intense olive oil scent, right? So, keeping this in mind, how about we get right to it?
But first, keep this near your cooking station, in your kitchen:
Best oils for heat: corn, cannoli, sunflower, avocado oil, refined coconut oil, grapeseed oil, peanut oil
Best oils to tenderize cakes, pastries & baked goods: canola, butter, avocado, and coconut oil
Best oils for preparing a salad dressing: any type for that matter, but keep olive, walnut, peanut, sesame, and grapeseed oil nearby
1. Sunflower Oil
Hands down one of the best and cheapest vegetable oil substitutes out there! It's virtually flavorless, so you will not notice any difference when cooking. Use it in any recipe that mentions vegetable oil in a 1:1 ratio.
2. Canola Oil
Canola oil is a cheap plant-based alternative to vegetable oil. It's one of the best of them since they have almost the same taste. And it's no wonder! After all, canola and the following oils are often components of vegetable oil.
3. Corn, Soy Bean or Palm Oil
It's not just canola that makes a fit replacement for vegetable oil. Since vegetable oil is commonly made from soybean or cornPalm, soybean, and corn are often used in vegetable oil blends. You can use them all interchangeably.
3. Flaxseed Oil
Linseed oil or flaxseed oil is a good source of fiber. It's quite aromatic and tasty, but there's a catch! It should not be used in preparing high-temperature foods since it's not heat-stable.
Add it to your salads, dips, dressings, or marinades, and drizzle it as a topping on your dish after it's done cooking for extra flavor and a luscious, rich touch, but keep it away from fire!
5. Avocado Oil
Refined avo oil is one of the best substitutes for vegetable oil. Yes, we'd usually tell you to choose cold-pressed avocado oil. But the refined version is more suitable for extra hot temperatures too.
It's rather healthy and filled with nutrients, neutral in taste, and will not become bitter, smoky, and unpleasant until it reaches 520 °F. That's enough to make this oil a good choice for anything you wish for. The biggest downside is its price.
6. Grapeseed Oil
Here's a great, healthy substitute for vegetable oil! It's neutral in flavor, will not overcome the taste of your food, and it's suitable for deep-fried goodies.
FYI, even the organic cold-pressed ones are pretty versatile and can be used for stir-frying, grilling, marinades, dressings, broiling, sauces, and stews.
7. Walnut Oil
It has a smooth yet nutty, rich, earthy, deep flavor. And if vegetable oil is nowhere to be found, walnut oil can be a great help. Its buttery aroma will make your dish shine, so if you want a flat, flavorless oil, maybe stay away from this one. If you don't mind a touch of something special, this one's for ya, you daredevil you!
8. Olive Oil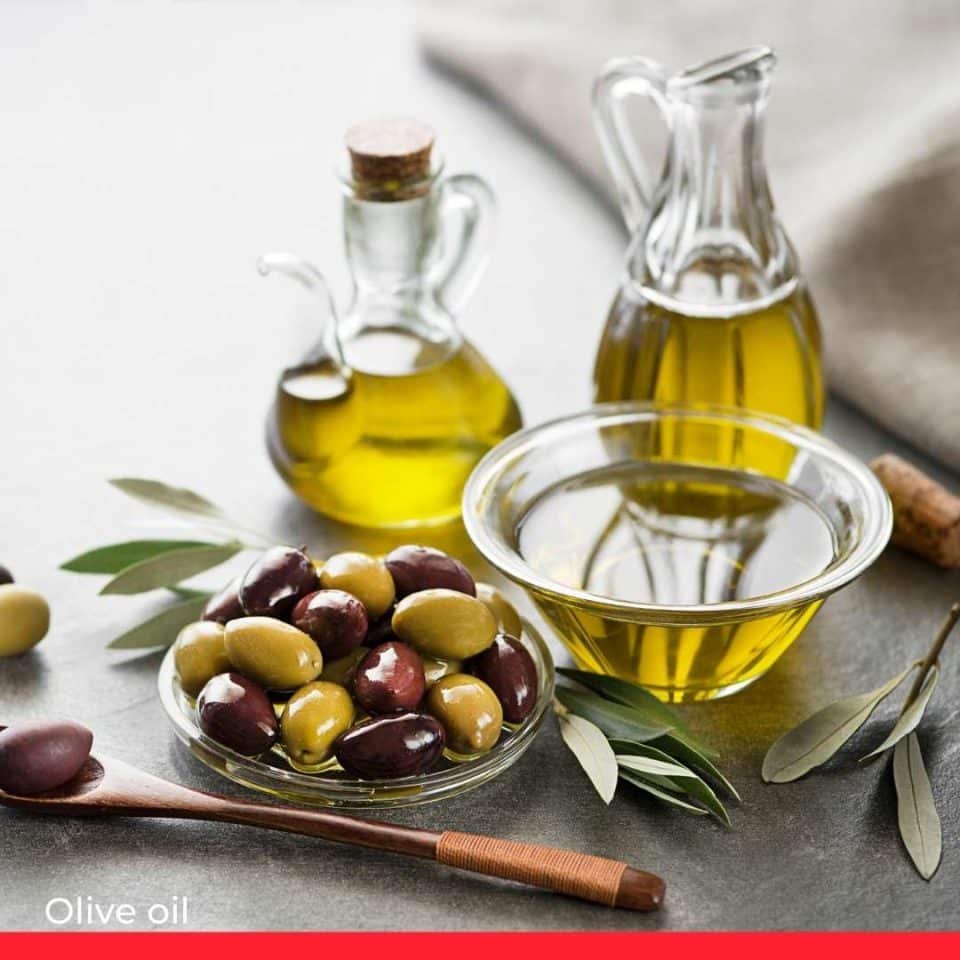 What can you replace vegetable oil with? For dressings and sautéing veggies, here's your winner, foodie! Olive oil is just right.
We are recommending now the opposite of the usual: the regular olive oil is better. Being processed makes olive oil good for frying, for instance. The extra virgin one is a good option for salad dressings, toppings and dips, and in sautéing, but please avoid using it in baked goods, especially sweet ones, because it will impart a strong flavor.
Long story short: if you only have olive oil, you can replace vegetable oil with it. Just expect its signature finishing touch.
9. Sesame Oil
Sesame oil has sweet, mildly bitter, nutty, rich, creamy, and earthy undertones. Sesame oil is one of the most delicious vegetable oil substitutes and it's very popular in Asian and African cuisines.
10. Coconut Oil
Ah, yes! One of the most aromatic oils out there, coconut makes a great substitute for oil in baking. It's also a good choice for frying. Besides the difference in flavor – vegetable oil is mild, bland, and neutral, while coconut oil is sweet, kind of vanilla-like, and, uhm, coconutty – there's another detail that might inconvenience you.
Coconut oil solidifies, so it needs to be melted for measuring purposes. Also, it's more expensive than vegetable oil.
11. Peanut Oil
When it comes to deep-fried goods, peanut oil is a great sub. It has a high smoking point, making it ideal for replacing vegetable oil. It has a nice touch of nuttiness but is relatively mild. In fact, it's quite neutral, and this detail makes it fit to be a swapping twinsie.
The only disadvantage of going after it: it's more expensive and harder to find. Still, if you have it around, use it.
12. Butter and even ghee can be full-of-protein vegetable oil substitutes
This is, hands down, the best vegetable oil substitute in brownies or muffins. In fact, if you need to substitute oil, butter is quite a pretty yummy choice. Butter, if you don't mind animal-based ingredients, is a decadent swap. Now, make sure not to use it for high-heat foods. Its low smoking point makes butter burn fast, smoky, and leaves a bitter taste. Not that great, huh? But do add it in your brownies, though.
P.S. even margarine will do if you have it around. And let's not forget clarified butter, aka ghee, the toasty, rich, creamy, nutty, aromatic goodness that'll make any food better. Extra tip: this one is shelf-stable and has a high smoke point.
13. Greek yogurt for extra richness and fatty dishes
A healthy sub for vegetable oil if you want to cut back on fats: Greek yogurt. It provides richness, moisture, and a tangy taste, plus creamy consistency. Use it in salad dressings, sauces, dips, and even baked goods. Again: not good for frying or sautéeing.
15. A dollop of mayo in place of dressing
Is anyone bothered by this suggestion? Mayo is ideal for some extra richness and a fatty, glossy glaze for your salads. Extra tip: it's even good in baking. Yup!