Romanian Albinita (Honey Cake With Plum Jam & Cream Filling)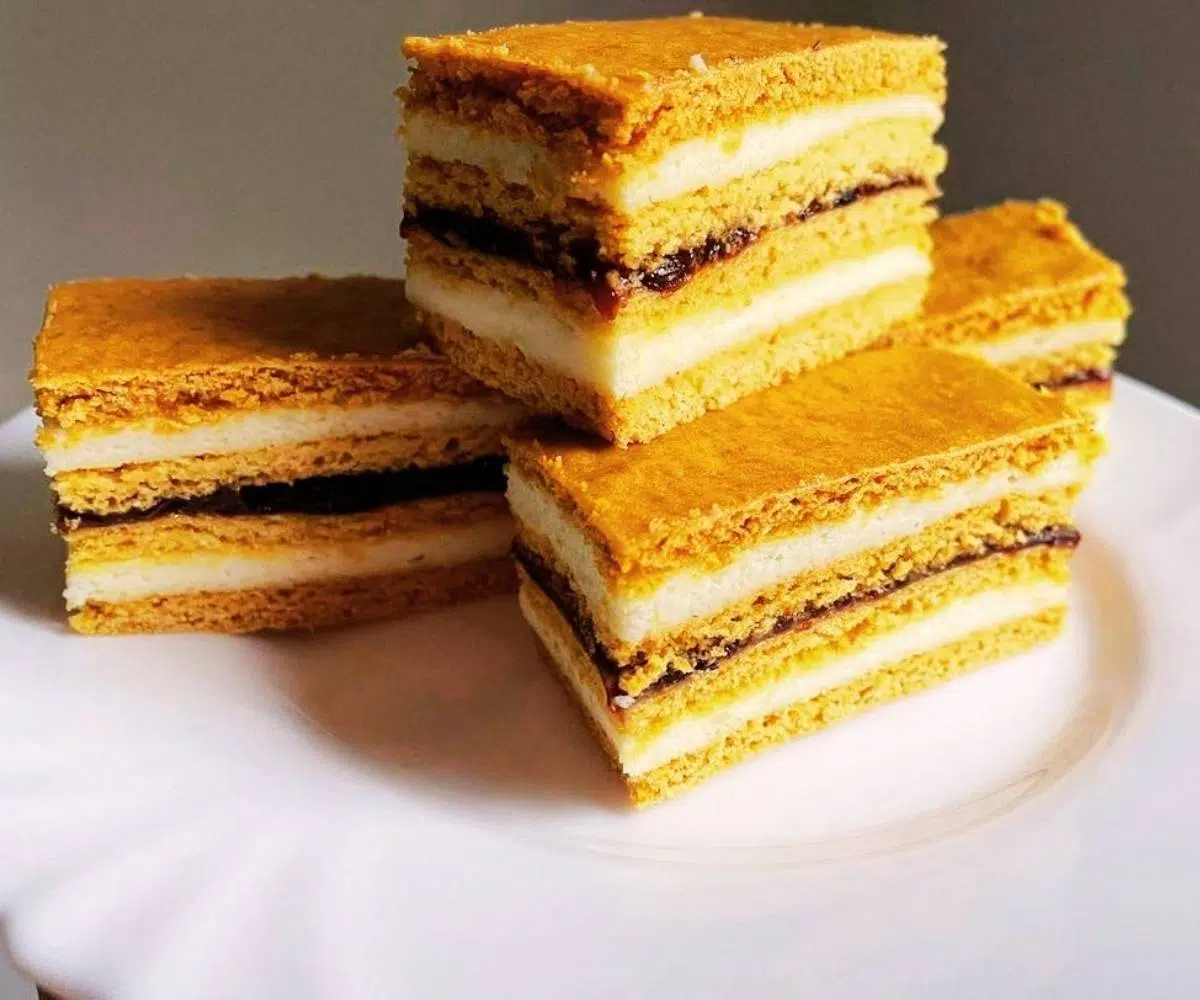 This very popular Romanian dessert is so soft and fantastic. The honey baked into the cake layers pairs perfectly with the simple white cream and the plum jam.
It stays amazing in the fridge for a several days (the longest we've tested was 4 days), so this is also a great make-ahead cake.
Romanian Albinita/Honey Cake With Plum Jam & Cream Filling
Ingredients
Ingredients for dough cake layers:
500

gr

flour

100

gr

sugar

150

gr

honey

130

gr

butter

85% fat

2

eggs

1

level tsp

baking soda

1

pinch

salt
For the cream:
120

gr

semolina

600

ml

milk

150

gr

sugar

250

gr

butter

82% fat

1

vanilla essence

grated  lemon peel of 1 lemon

300

gr

plums
Instructions
How to Make the Layers:
Make sure all the ingredients, except the flour, are at room temperature.

Mix them together in a bowl, then put on the heat.

Leave it on a medium to high heat, stirring constantly until a copper cream is formed. Leave to  cool.

When it is cool, add the flour and mix by hand until a soft, non-sticky dough results.

If it looks too hard, add 1-2 tablespoons of milk.

Then divide the dough into 4 equal pieces.

Roll the dough out on a sheet of baking paper sprinkled with flour.

Roll it out as thin as possible, then transfer it, along with the paper, to the back of the tray.

Bake for about 8-10 minutes, at 180° C ( 356 ℉) until the edges turn coppery.

Bake all the layers one by one. Leave them to cool on a rack and set aside the baking paper.

The layers will harden but they will soften with the cream. While waiting for the rest of the layers to bake, cover the baked ones with food-quality film so it does not dry out.
How to Make the Cream:
Boil the milk together with the sugar.

When the milk has boiled, gently add the semolina so that it doesn't become lumpy. Mix it with a whisk and boil for 5 minutes.

Be careful the mixture doesn't stick to the bottom of the pan.

ATTENTION! It doesn't make a very thick semolina.

Remove the pan from the heat and allow to cool.

Then add the grated lemon peel and vanilla essence, and mix until it is well blended.
How to Do the Assembling and Filling:
Spread the semolina cream over the first layer, place the second layer on top and spread it with the jam/marmalade. Place the third layer on top and spread with the cream and then put on the last layer.

Leave the cake in the fridge overnight; the longer it rests, the better it will be.

Before serving, decorate with powdered sugar. This cake is great, I recommend it to everyone!
Notes