11 Best Compact Microwave Ovens According to Online Reviews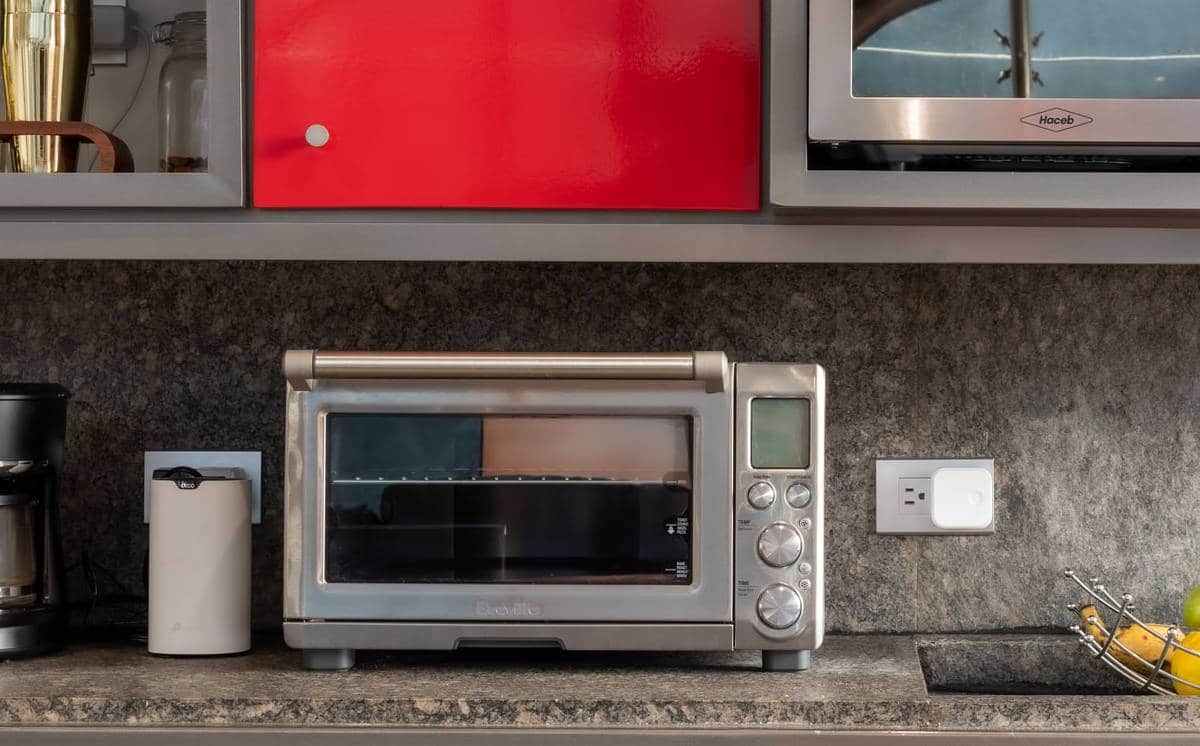 Small kitchens don't have to be cramped. Nor do they have to lack the appliances you need! Don't compromise on space and comfort!
Compact appliances are the way to go! Let's find the best solutions for smaller spaces. Discover the best compact microwave ovens according to online reviews!
Compact microwave ovens not only do everything the classic ones do, but they don't take up so much space in your kitchen. And they usually cost less. So why not buy one? We found all the best versions according to people who bought, tested, and also took time to write about them.
Buying Kitchen Appliances
Buying kitchen appliances is always a hassle. There is seemingly an infinite number of models out there, from well-known brands to the more obscure ones, at various prices and loaded with features, some very helpful some rather useless. It's just dizzying and makes the buying process a nightmare.
So guiding yourself by the reviews is a (relatively) safe way to go. It's not bulletproof, so when it comes to online reviews look for safety in numbers. As a rule of thumb, the higher the number of reviews the higher the chances that the overall rating is representative and can be trusted.
Without further ado, let's discover some of the best compact microwave ovens based on their online ratings! Let's start at the top!
---
Chef's Pencil is reader-supported. If you buy something through our links, we may earn an affiliate commission, though this does not influence the product selection, which is done independently by our editors and contributors.
---
1. Toshiba EM131A5C-BS Microwave Oven (with Smart Sensor)
This is one of the best compact microwave oven according to online reviews, with over 31,000 5-star reviews to date. Now, that's quite the performance, right?
What got people so mesmerized by this product? What did they have to say about their experiences with this kitchenware? Customers loved its design and the fact that this microwave oven leaves plenty of space on the countertop.
They were also happy about how peaceful and less noisy this product is compared to others. In fact, you could even forget about it in a noisy, busy kitchen because you can't hear it work. While there weren't many opinions on its appearance, people were happy this product doesn't show scratches or fingerprints. "Best microwave ever!" said someone. "Exactly what you need," said someone else. "As good as it gets," another reviewer wrote.
Buyers praised this microwave oven for its power as well as its intuitive settings.
Customers were pleased with the defrosting programs and their results as well as the popcorn moves this oven has.
2. BLACK+DECKER EM720CB7 Digital Microwave Oven
It seems that this microwave oven got people praising the engineers who thought of it. That's one way to look at things, alright. This oven got over 8,000 5-star reviews (to date) and everybody was appreciative of how small it is while somehow still fitting everything in. Customers were also happy about the minimal, modern design, making this gadget look good on every counter.
A plus people kept writing about: while the size may be small, this tool has all the features you get in a full-size microwave oven.
Another plus: with just one button you get pizza or popcorn and other popular foods. One touch of a button, guys! That's kinda cool right there!
3. COMFEE' EM720CPL-PMB Countertop Microwave Oven, (ECO Mode and Easy One-Touch Buttons, 0.7cu.ft, 700W)
What compact microwave oven to buy? How about one that got over 10,000 5-star reviews online? This one, just like its name says, is comfy and will graciously sit anywhere you want it to.
It's a great gadget for all spaces and people loved that about it. They also loved its silent mode, not just its tiny size that doesn't take much counter space but doesn't disappoint in terms of getting things done.
This one packs heat. While small, this oven made people happy because it can heat up food pretty fast and evenly. Dig in! The chow is hot!
Buyers appreciated that this compact microwave oven can fit a dinner plate and a bag of popcorn. But there were some reviewers not so happy it doesn't fit a big bowl.
People were also pleased with the clean, minimal, and posh design this oven has. All-black, with stylish buttons and settings, this one could be Mister Universe in terms of microwave ovens.
4. Farberware 1.1 Cu. Ft. Stainless Steel Countertop Microwave Oven
Do you remember how we said the previous oven could take home the prize of Mister Universe for microwave ovens? Well, it has some competition!
This stainless steel bad boy made people sigh. Well, not sigh, but it did make almost 8,000 people come back online and leave it a 5-star rating. But not only did its sleek and stylish exterior catch people's attention! Its functions did too!
For instance, people loved how this one has preset programs to heat leftovers, pizza, popcorn, dinner plates, potatoes, veggies, with just the touch of a button.
People had zero issues with this oven despite regular use.
They appreciated how easy it is to clean and how everything works just fine, so there were no spills, no mess.
FYI: this model comes in many colors, which you'll like!
5. Top Affordable Product: Galanz GLCMKA07RDR-07 Microwave Oven
Your mini kitchenette deserves a cute little microwave oven! And this one is both. It's compact and designed to fit any small space. And it's soooo cute!
This is also quite affordable, though prices can vary depending on color. What's so special about it that buyers were so caught up? Well, its retro design is to die for! You can choose from many color options (the red and turquoise, as you may say in the sixties, are here, baby!). Not only was it deemed adorable with its bebop blues, but its functions were appealing too.
People liked how every control is easy and everything just works as it should. They were happy with how easy it is to figure out.
"So cute! Adorbs! Now I love it!" Just a couple of lines people found important to write down.
People were also pleased with how well it heats up the food – no cold spots – and how it's all about safety. Responsible buyers appreciated the child lock on this oven.
6. Hamilton Beach 0.9 Cu. Ft. Stainless Steel Countertop Microwave Oven
While you may fall in love with the appearance, you will stay in love for the bond you'll make with it. Yes, it can happen with a compact microwave oven! People loved the slick, minimal, elegant, and simple design this oven has.
After that, they began to discover all the things it has to offer. Some of them called it fantastic for evenly cooking the food. Others were happy about the space it has for plates and yet the space it can save on the countertop. Some were appreciative of the engineering functions, praising how quiet it is, whilst being powerful enough to heat food evenly.
Customers thought this model offers the perfect quality at a great budget.
Quiet, clean appearance, and the just size, said one buyer. Pretty much sums it up.
7. Panasonic NN-SB458S Compact Microwave, 0.9 cft, Stainless Steel
If you still don't know how to choose your compact microwave oven, how about you invest in a household name? It seems this piece of technology is the future of microwave ovens, said many others. They liked how it works, they liked the design.
The stainless steel case and the settings were appealing for many buyers.
They liked the keep warm function that keeps the food nice and warm until it's ready to eat.
Another plus: how easy it is to clean, after certain ingredients have burst inside the oven. We all know that hassle!
8. Mainstays 0.7 Cu. Ft. 700W Black Microwave Oven
Buyers recommend it for how spacious it is on the inside while having a small footprint and going well even in the smallest spaces. They were also appreciative of the simple, intuitive functions and they liked the price.
Customers liked this oven because it's easy to use and they think it's a good investment.
Another plus: quite powerful for its size.
9. Panasonic Compact Microwave Oven NN-SN67KS
Buyers liked how quiet this compact microwave oven is and how silent the "finished" beep is. They liked its modern, clean, and elegant design, with simple buttons. They were happy about the size and how well it got everything done.
Buyers appreciated the simple programs and the predefined settings for popcorn, for instance.
Another plus customers found that food doesn't lose texture and flavor after reheating. That's a major one, fellow home chefs!
10. Nostalgia RMO7AQ Retro 0.7 Cu Ft 700-Watt Countertop Microwave Oven
This is one of the best compact microwave ovens online, especially if you dig the whole retro vibe! Even the brand name says it: it's all about the nostalgia of the good ol' days!
Other than the fabulous look and the retro, feminine, elegant lines, this oven comes in a couple of delicious colors. Bebop blue, white, metallic red, and ivory, and people were frantic about these hues.
Customers liked that it packs plenty of power while remaining all tiny and cute. And boy, is it cute alright!
Someone said she squealed when opening it. It's adorable, it's perfect, and yes, some fell in love.
More pragmatic buyers wrote about its preset functions and the versatility the oven provides, evenly heating various dishes.
Top Premium Product
11. Panasonic HomeChef 4-in-1 Microwave Oven
If you want a high-quality product and have an extra-large budget, this is one of the best compact microwave oven according to online reviews.
It's more than a basic compact microwave oven. It's a home chef oven that has it all. People loved its sleek, posh design, and its sturdiness. And yes, they fell for its combo of microwave and broiler.
Customers appreciated all of its functions: I mean it's not too often that a microwave oven is also an air fryer, a broiler, and a convection oven at once! What does that mean? Well, it means this mother bakes and heats the food, makes healthier versions of fast foods, and does it all looking good!
People also liked its safety features for little home chefs to be.
Another plus: how easy it is to clean!
---
Chef's Pencil is reader-supported. If you buy something through our links, we may earn an affiliate commission, though this does not influence the product selection, which is done independently by our editors and contributors.
---