All About Whale Meat: Taste, Best Cuts, and How to Cook it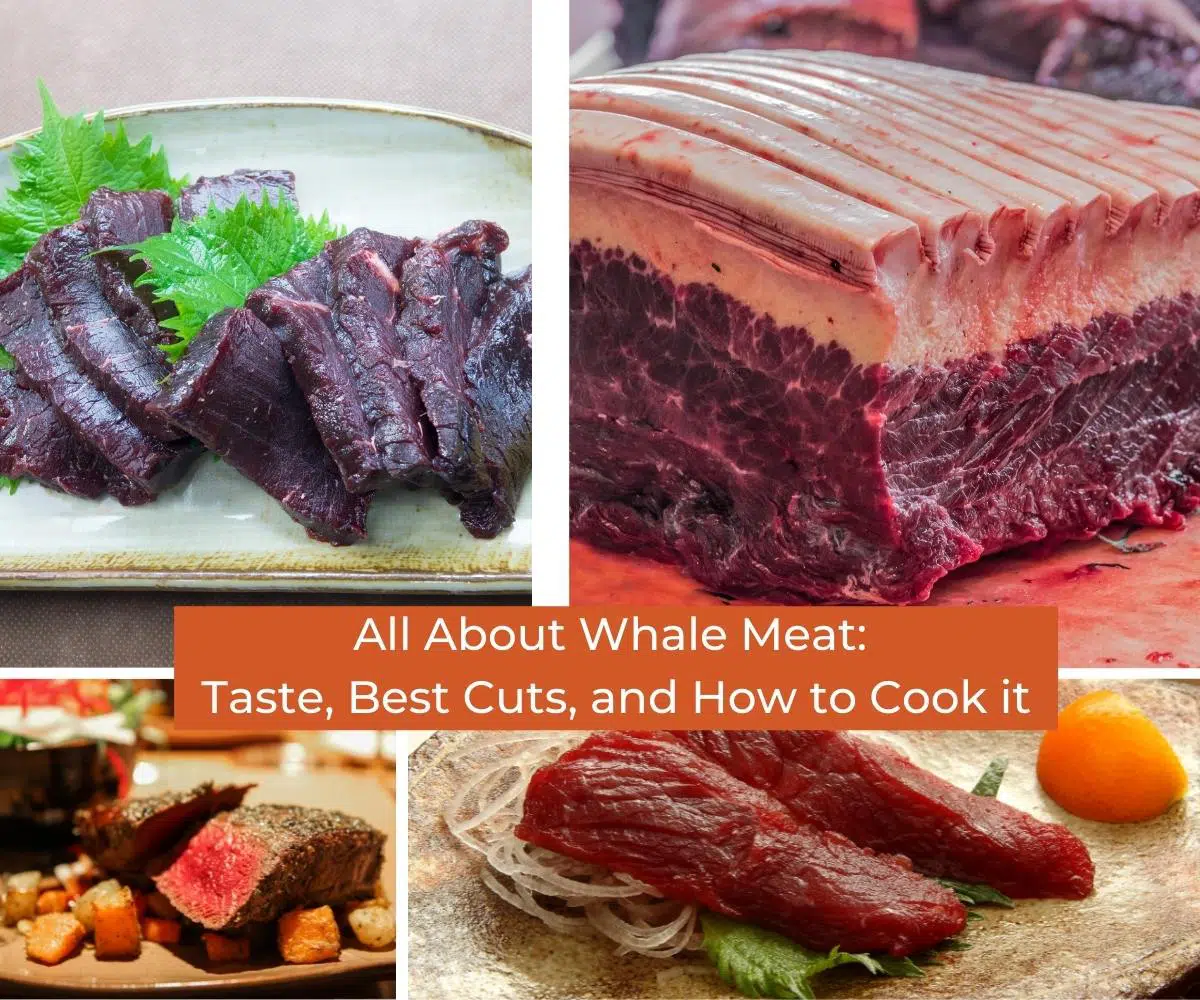 What does whale meat taste like?
Whale meat can be described as a more gamey version of beef with the melt in the mouth texture of tuna. Depending on the type of whale and the cut, this unique meat can be either quite chewy or deliciously tender.
Historically, in countries such as Japan, it was (and still is) common place to eat whale meat. Eating whale has provoked controversial opinions around the globe, so why are people still consuming it to this day?
History of Whale-eating Culture
In Japan, whale meat has been eaten for centuries. Although it varies across the regions, many people will have eaten whale meat while they were at school. Whale was an important source of protein for the Japanese, especially during the post war era, when food shortages led to an increase in its consumption.
While other countries around the world, such as Iceland, ate whale meat, over time the culture pretty much died out. However, in Japan, it is still ever-present.
The Japanese whaling industry really kicked off in 1899. The introduction of harpoons and guns, dramatically increased the supply of the meat. The total supply in the mid-1920s was approximately 10,000 tons, which increased to 45,000 tons in 1939. A halt of the industry during World War Two was followed by a huge demand in the prized meat. According to 1947 statistics, about 47% of the total animal protein consumption was whale meat and about 15% of this was used for school lunches.
Iceland, Norway, and Japan are the only countries that authorize the commercial whale hunt.

Deutsche Welle
Nowadays, restrictions are in place to reduce whale meat production. The IWC (International Whaling Commission) suspended all whaling activities in the late 1980s. Despite this, whales were still hunted, putting them at risk of becoming an endangered species. Awareness campaigns began to spread across the world, making people more aware of the problems cause by whaling. As a result, the demand for the endangered meat has slowly decreased.
Where is Whale Eaten?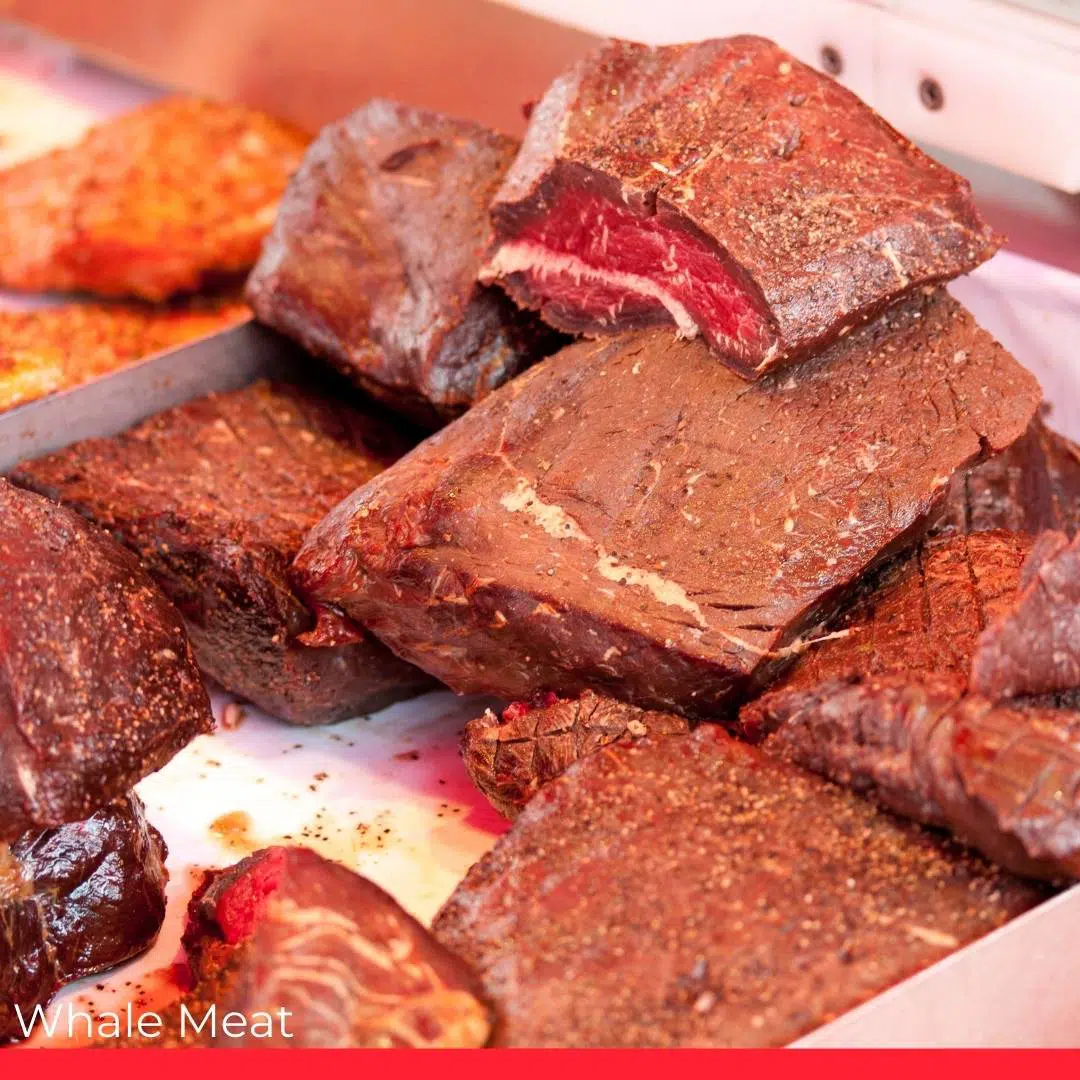 Besides Japan, Norway, Iceland, and Alaska are some of the places where whale meat is most common. In Norway, in spite of a recent rise in whale-meat consumption, it is estimated that only about 4% of the population eats whale on a regular basis.
In the United Kingdom and Japan, whale consumption grew after World War Two as it was a cheap and reliable source of protein. In the UK, corned whale meat (similar to corned beef) was widely available and described as "corned whale meat with its fishy flavor removed". In other areas, whale meat was eaten raw, in soups and stews or grilled like a steak.
However, in Japan, a wide variety of cuts and dishes containing whale are available. Combining traditional Japanese dishes with the unique protein has created a whale-eating culture like no other country. The most common is sashimi or tatami (raw whale quickly seared with a hot flame); however, it can range from hot pots to salads.
Although there are many different dishes, it is not usually consumed everyday. It's not really a meat regularly but is eaten for an understanding of the taste.
Different Cuts of Whale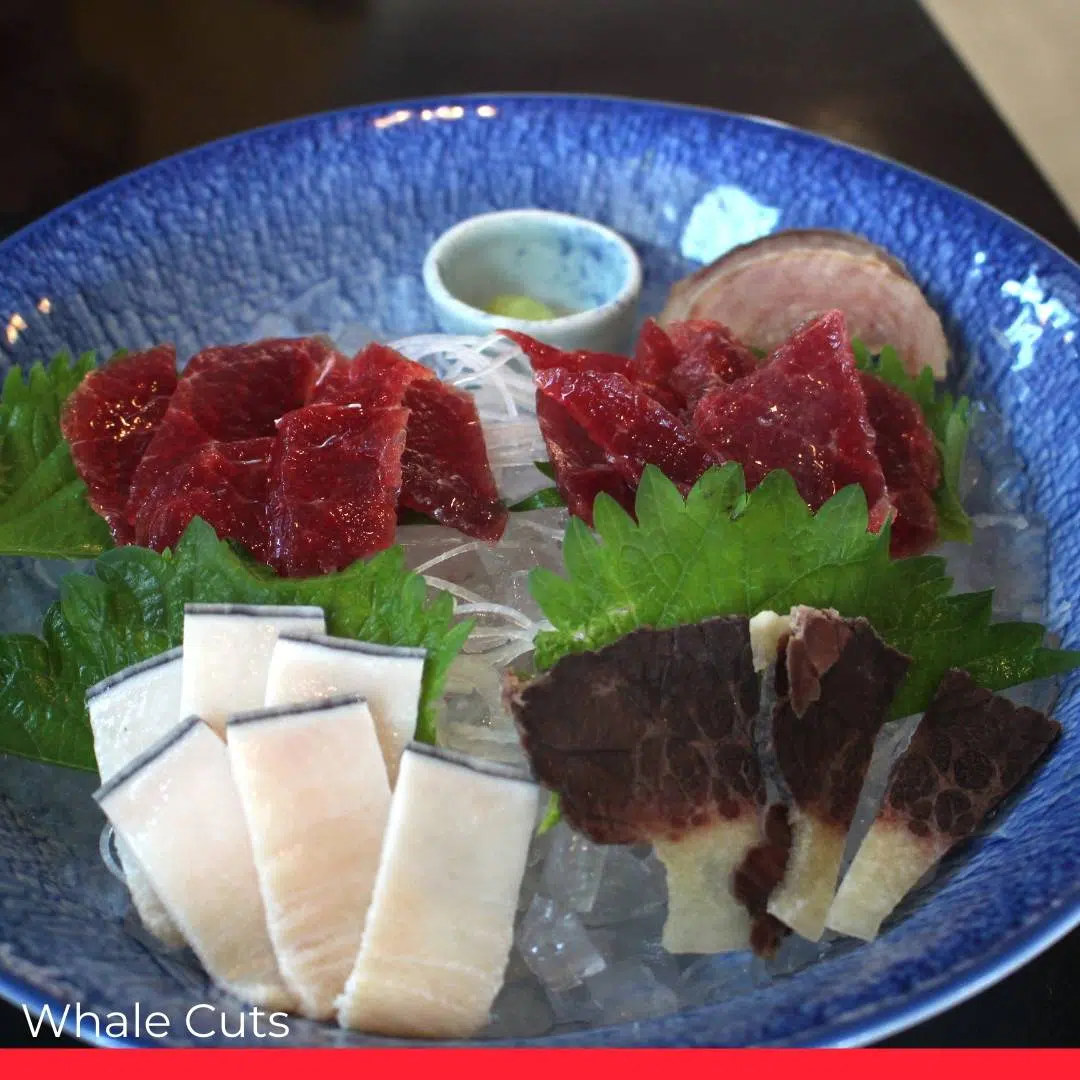 Tongue
The tongue is a high class piece of meat which is generally quite fatty, although the base and the tip vary in flavor. The fat content lends itself to oden (a Japanese dish containing all kinds of ingredients cooked in a special broth of soy sauce, sugar, sake, etc.). It is also used to make aburakasu, where it is deep fried to become crisp and gel-like in the center.
Tail Fin
The fin is fat and gelatinous making it prefect for sarashi-kujira (described below).
Onomi
This is probably the most sought after cut of the whale. The meat from the base of the tail fin is marbled, which makes it great to eat as sashimi or fried as a steak. This part of the whale has a texture like tuna and melts in your mouth.
Kanoko
This is the meat from around the jaws and cheeks, which has a white-spotted pattern of marbled fat. The marbling is similar to the ono cut but it is tougher. This part can also be eaten as sashimi or in a nabe (hotpot)
Akaminiku
This cut make up around 30-40% of the whale meat produced. This part of the whale has many uses, from cutlets and steaks to sashimi.
Although these are just a few of the different cuts of whale, many other parts are also eaten. Various organs and cartilages are used, all with different flavors and methods of preparation.
How Whale is Usually Prepared
The most common way of eating whale is grilling it like a steak. Although in Japan, there are many traditional ways of preparing and eating the meat which have been adapted from methods used centuries ago.
Sashimi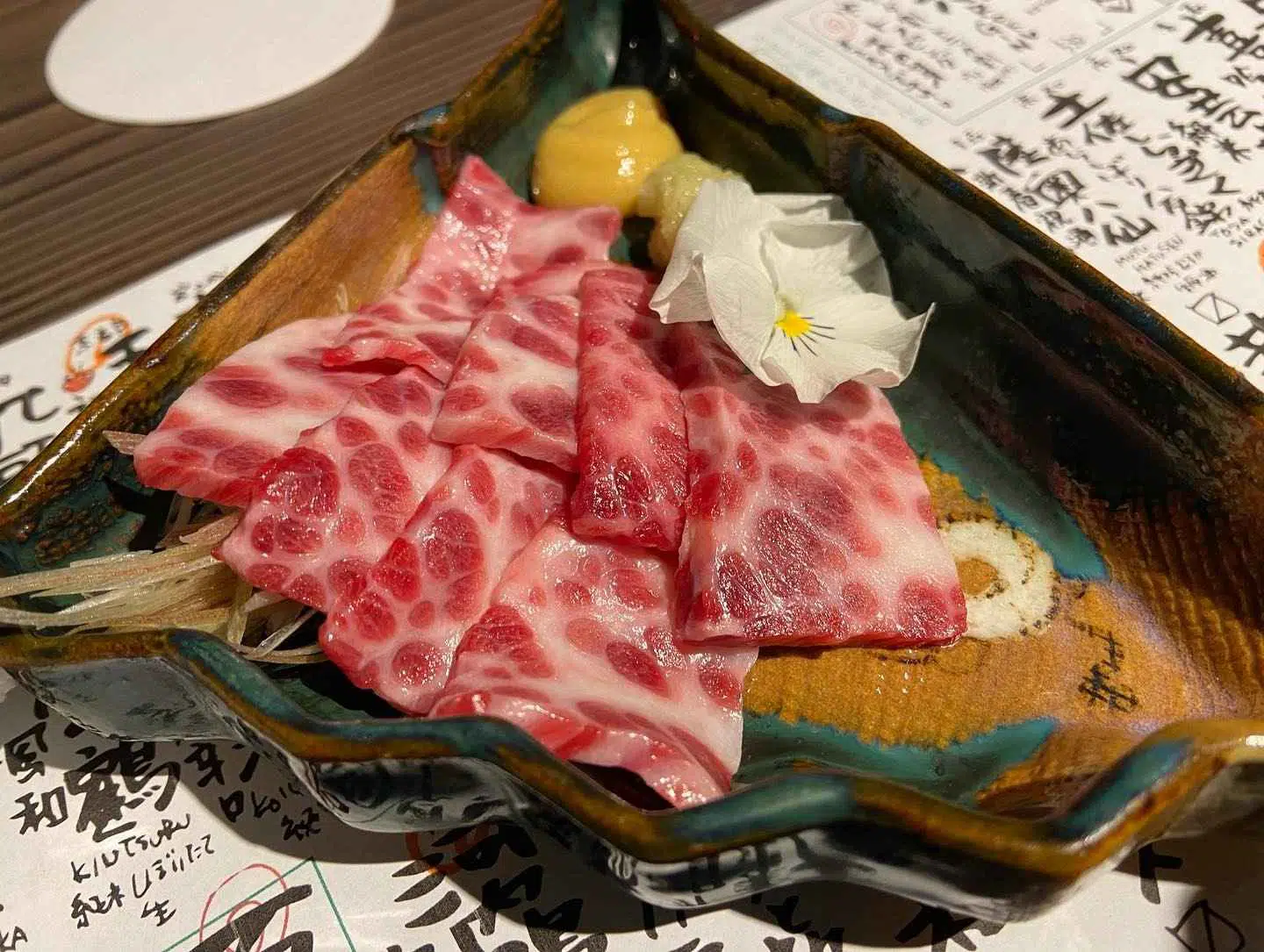 Sashimi is one of the most popular ways to enjoy whale. Many various cuts are used but the onomi cut is one of the most prized. The slices of 1 cm thick meat has a marbling of fat that creates a delicate texture, similar to tuna. Like most sashimi, it is typically served with wasabi and soy sauce.
Tataki
This is similar to sashimi but the onomi cut is lightly grilled (over charcoal or with a blow torch). The slight scorching adds a nice smoky, grilled flavor, whilst maintaining the delicious texture of the whale.
Steaks and Deep Fried Cutlets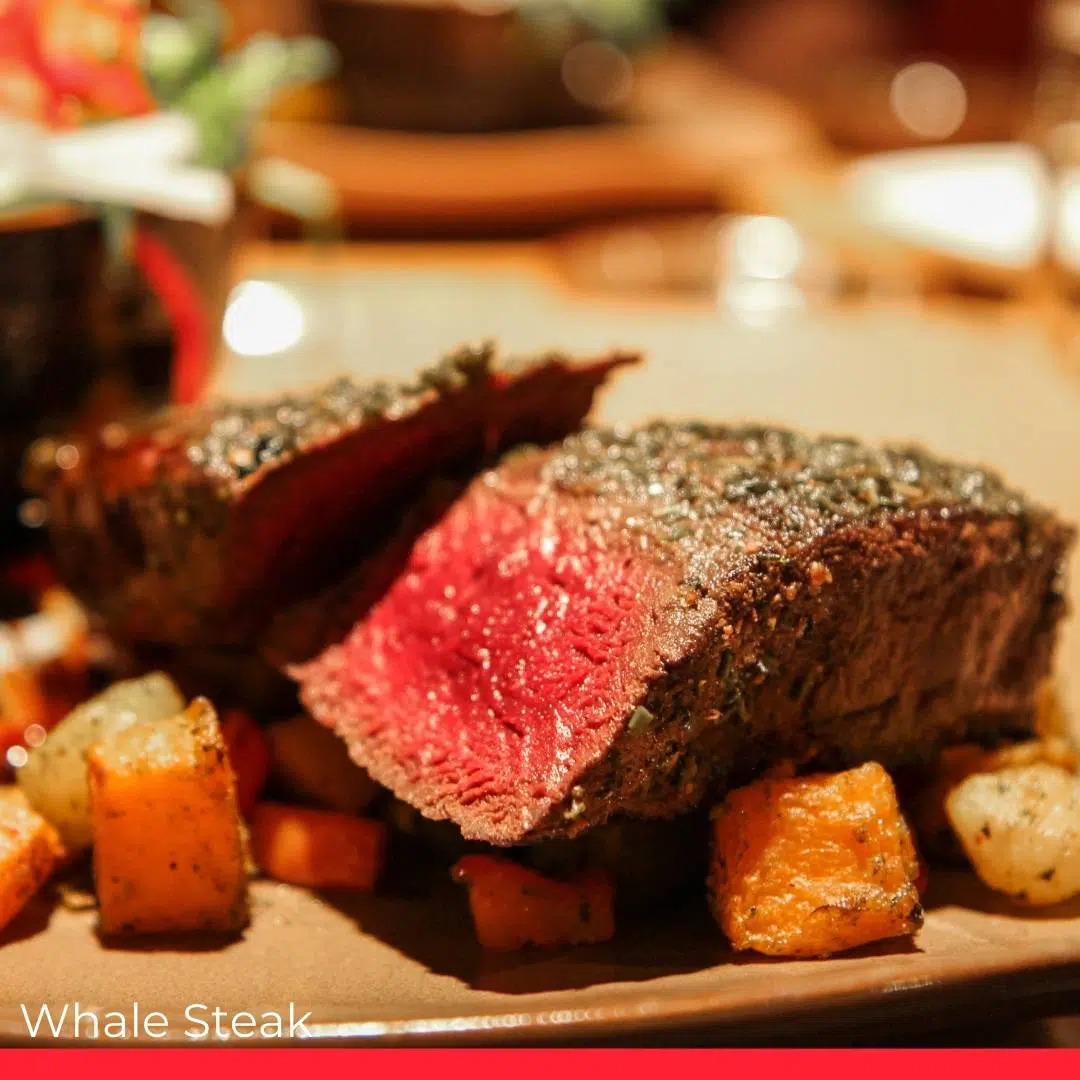 The akaminiku cuts are predominantly used for steaks and deep fried cutlets. Steaks are cooked like regular beef, salting and searing the outside to golden brown. Similar to venison, it can be eaten rare.
Deep-fried cutlets are covered in seasoned flour, eggs, and then panko breadcrumbs. Similar to Japan's gyuukatsu (deep fried beef), whale is best eaten medium rare to medium. The crunchiness of the breadcrumbs balances perfectly with the meaty whale.
Bacon
The meat from the lower jaw and the belly is dry cured using salt and then smoked. The mixture of fat and meat adds a deep umami flavor while it has a chewy and meaty texture. The curing gives the outer edge a bright red color, whilst the inside is dark red. It is slightly grilled to render the fat and cook the meat.
Sarashi-Kujira
The fatty tail fin is thinly sliced and then quickly boiled to render the fat. To stop the cooking process, it is submerged in ice water. To balance the fattiness of the fin, it is served with a sweet and umami packed vinegar miso sauce.
Nabe and Oden
Nabe is a traditional hot pot dish where various vegetables and meat is stewed in a large pot. Different cuts can be used but the most favored are akaminiku and kanko.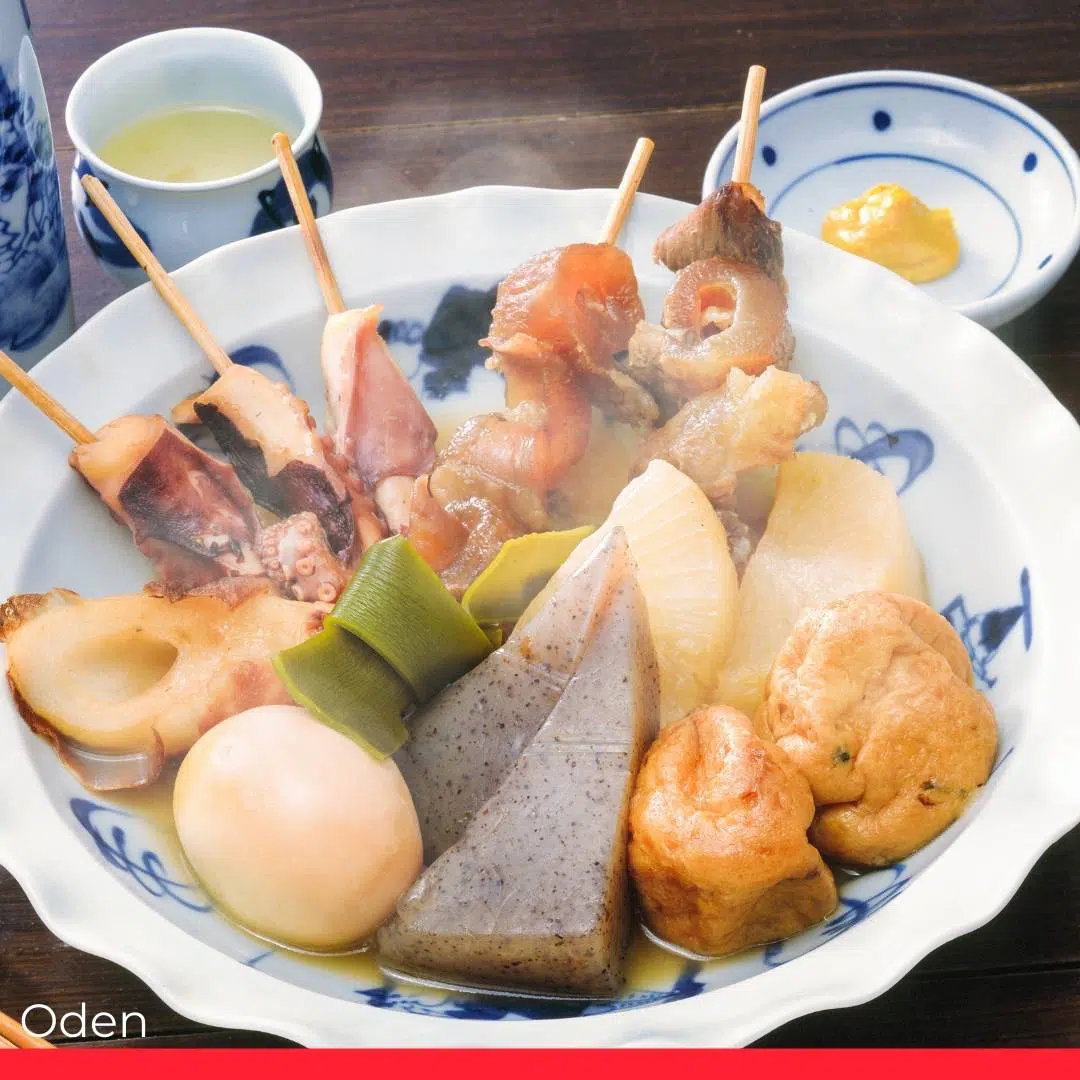 Oden is another popular whale dish. Whale tongue together with various vegetables are slowly simmered in a dashi stock. Dashi adds a deep umami and fish-like taste to the vegetables and whale tongue.
Final
Eating whale meat is controversial and many oppose it. However, it is deeply rooted into various countries' history, such as Japan. While the number of whale vendors is decreasing, the emphasis is on delivering the taste of whale in small samples. Today, it is not consumed on a mass scale, being seen as a delicacy.
---
Related: 25 Most Popular Japanese Foods