35 Stunning Chef Tattoo Ideas – Inspiration Guide
Tattoo foodies worldwide, this one's for you! We found some of the coolest chef tattoos for you to paint on your body. Which one do you fancy?
Well, if you want to get inspired, here are 35 scrumptious ideas to choose from. To be honest, some of them might seem like something a bad boy would draw on their arm, but I guess there are a couple of bad boys that go good in the kitchen! #drool
All jokes aside, chef tattoos come in quite the variety. Some of them represent ingredients you can cook with, others utensils and kitchen-based tools, others funny messages. All of them, however, tell a story, no matter their design! And, of course, a tattoo is a great way to cover up that cut or burn you got in the kitchen!
Foodies, chefs, and cooking experts all like getting inked!
Getting a symbol of your métier inked on your arm is so à la mode. It's more than stating your job: it's about your meaning, what makes you happy, creating and displaying your identity by telling a colorful story and showing it for the world to see.
Culinary body art is becoming more and more of a trend worldwide and it's no wonder! Utensils, tools, garments, accessories, ingredients, fruit and veggies, cakes, breads and meats, entire dishes, and funky messaging: they all come together as chef tattoos.
And if you're looking for some inspiration, look no more! Here are some of the coolest tattoos that chefs and kitchen experts have used to express themselves. Maybe a cupcake to show you're a pastry chef and have a playful, cute side? Maybe a chef's knife in a powerful yet dark, colorful sleeve, with skulls, to show off that bad boy vibe outside the kitchen?
Maybe a chef's hat to indicate your professionalism in your restaurant or to communicate that you're the cook in your home? Maybe some herbs to proclaim your passion for condiments and spices. Maybe a slice of hot pizza with some mozzarella oozing on your forearm to show everybody you make the best Italian pie out there!
There's plenty to choose from! So, set the timer and leave your food to rest for a couple of minutes! Here are some culinary tattoo ideas for you!
Discover some of the coolest chef tattoos!
While actual representations of food are not so popular right now (other than cookies, cakes, bread, burgers and pizza) utensils, recipes, and ingredients are quite the stars.
So, chefs and cooks, food lovers and gourmet aficionados, check out how you can decorate your body and wear your art and craft on the outside for the world to see with some of the greatest tattoo designs.
1. Chef Knife Tattoos
Sharpen up your blades and needles! Chef's knives are in high demand and are usually to be seen on the forearms, fingers, and hands. Sometimes they are small symbols. Sometimes they are realistic. And sometimes they are entangled in full-size stories with other ingredients, such as meat, fruit, vegetables or herbs. And sometimes with skulls, because why not? Time to get chopping!
2. Don't you just love culinary tattoos with recipes and yummy ingredients?
If you're a chef and you want to declare your love for your job for the world to see, recipes and ingredients are very popular. You can get such a tattoo even if you simply love the craft without actually being a chef, perhaps you're just a fine dining lover.
All the glam and the popularity of the culinary industry of the past few years have increased the number of people who get their skin inked with kitchen-inspired symbols.
A hot pepper if your place is famous for spicy food, for instance. Or maybe some butter, milk, and flour if you're into baking, or a cheese plate if you just adore cheese, because, well, who doesn't?
3. Here are some chef tattoo ideas for the ladies!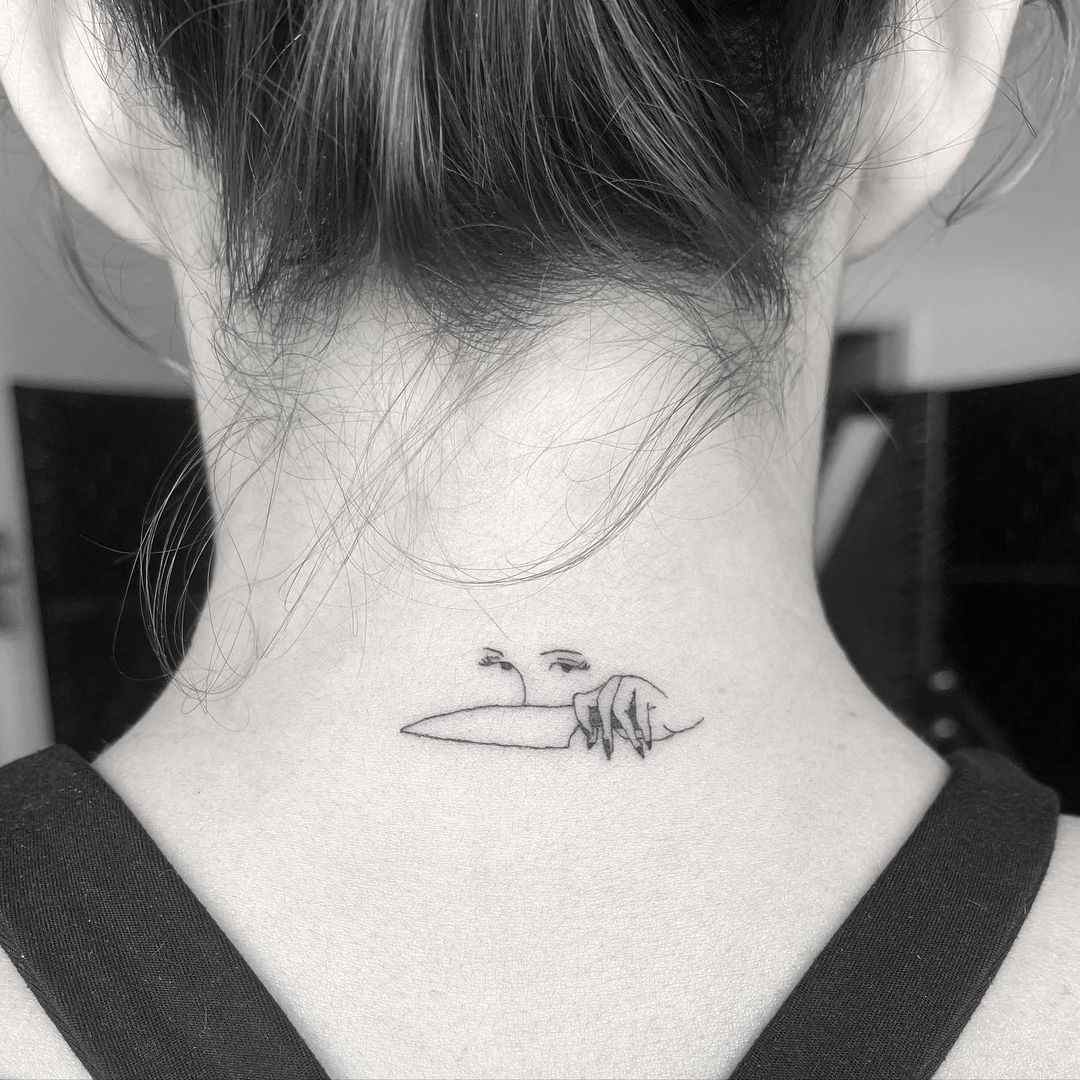 There's more to ink than meets the eye! There are many convoluted stories and symbols hidden in a tattoo. And women often choose story-based tattoos, due to their extra dose of sensitivity and creativity. That's right, ladies, we've got you covered!
You can choose micro tattoos that depict utensils, cakes or desserts, or you can paint a lovely and vibrant map of your passion for cooking on the back of your neck, your shoulders, back or arms.
4. The Chef's Hat
Anything that can be found in a kitchen can be inspiration for your next tats. So your day of handling hot pans and sharp knives, creating elaborate dishes and experimenting with ingredients has ended? Well, since art imitates life, skin art is no exception!
And is there any other symbol that says "chef on board" than a chef's hat? We think not!
5. Let's get baking!
Baking is a bonafide passion for all bakers out there. Baking a cake, cookies, cupcakes or bread is more than cooking. Baking is more than a job. Baking is someone's identity. And if you love creating cupcakes, cakes, desserts, glazes and frostings, get a sweet tooth tattoo! Colorful ones are quite trendy right now, especially in neon shades. They look delicious, right?
6. Butcher Tattoos
Chefs and foodies are all creative and sensitive and have wild imaginations. They can work up quite a sweat, relying on their sense of humor to keep the mood fun in the kitchen. They are also powerful and always reinventing themselves, so it makes sense that they have the best tats!
One of the coolest tattoos a chef can have, especially one that works with meats, is a butcher's diagram. So, do you make the meanest burger out there or are you famous for the best steak in the area? Look no more! A butcher's diagram could be the tattoo for you!
7. Go vegan!
Fresh produce is popular. Fruit and vegetables are popular. Not only when it comes to dietary preferences but when it comes to ink art as well. If you are a vegan or prefer vegetarian dishes peppers, tomatoes, garlic, onions, lemons, oranges, mushrooms and chanterelles, salads and other leafy ingredients or maybe herbs. These are all chic ideas to choose for your tattoo! How do you like them apples?
8. Kitchen Utensils
Oh, for the love of cooking! So you don't like food tats but you still want to proclaim your love for the cuisine? Well, how about some utensils engraved on your skin? A spoon, a ladle, a cake server, a whisk, a rolling pin, a set of pots and pans or a food mixer, they all look amazing on your hand, arm, the back of your neck or legs.
The trend is to choose a micro tattoo depicting your most used or favorite utensil. However, larger-sized tattoos with realistic representation are also popular when it comes to favorite kitchen tools.
9. Don't forget a quote to keep you motivated in the kitchen!
Cooking is creative. So is tattooing. And so is writing. So, here you have it! If you love them all, choose an artistic quote, inked on your arm or fingers, one you can see when you are in the kitchen and you need some inspiration of motivation.
"Chef's life", "Once a chef always a chef", "Bon appetit!" or "Live to cook" are some of the classics. And if you're on the sharp side of the blade, maybe go for a spicy message such as "As strong as my blade" or "Let's play" written over your chef's knives! There are so many ways to celebrate your love for food, ink and the written word. So, what's cookin', good lookin'?
10. You can always get a portrait or self-portrait!
You can always commemorate a chef you admired or maybe engrave the portrait of a popular chef such as Jaimie Oliver, or maybe leave the mark of the person who inspired you to become a chef. Your grandma who inspired your love of baking, your dad who was famous for his burgers, or your mom with whom you spent your childhood preparing soups and stews.
And, you can always represent yourself in a realistic portrait or, even cooler, your alter-kitchen-ego. Maybe you're the cupcake queen of the burger, uhm… king? Who are you when you're cooking? Creating such a tattoo will cement your love for your job and yourself. And it will show everybody how you see yourself. Be careful there! There's nickname potential in these suggestions!
So, there you have it! So many suggestions to celebrate your love of food and cooking! So many suggestions that illustrate your passion for the kitchen, no matter how demanding it can be. Get inspired by these amazing chef tattoos and think about your next ink!