Top 12 British Desserts (With Pictures!)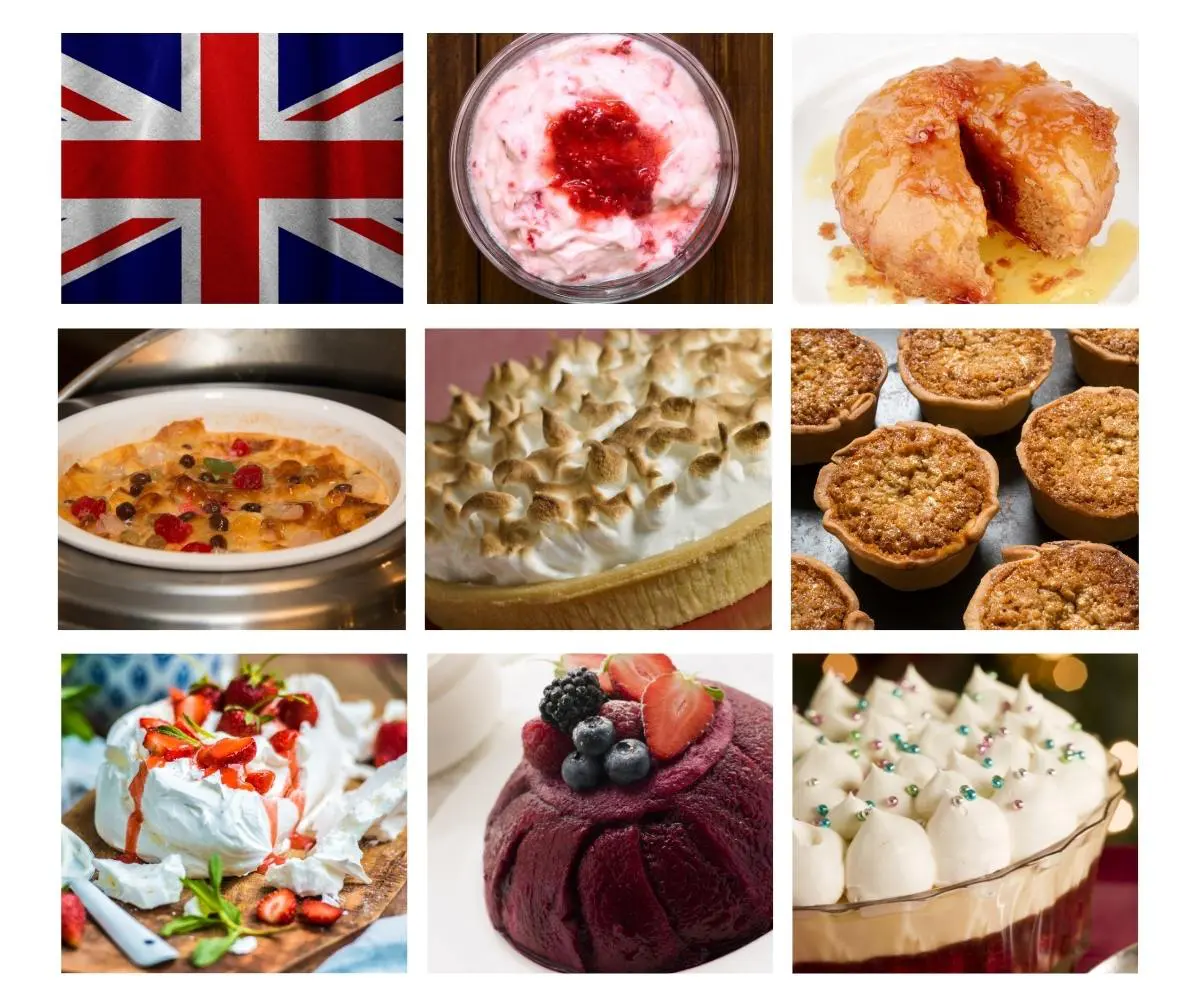 The British are famed for their desserts and rightly so. They know how to produce a pud to suit the season. And before we go any further, pud? Yes, short for pudding and synonymous with dessert in the British vernacular. Just accept it.
Winter puddings, thick and filling and hot and served with custard; summer puddings, light and fruity and creamy and straight from the fridge. Yes, we have a pudding for every occasion and every occasion deserves a dessert. Many of the old school dishes have enjoyed a bit of a comeback recently, with high-end restaurants serving gourmet versions of some very popular staples.
Check out below the most popular British desserts:
1. Bread and Butter Pudding
The classic bread and butter pudding is a gorgeous mix of crunchy sugared bread browned in the oven sitting atop gooey, mushy bread soaked in custard. An absolute steaming hot, custard-creamy, vaguely spicey delight.
And so simple – just layers of buttered bread, sprinkled with sultanas, soaked in custard, topped with a sprinkling of sugar and cinnamon, perhaps a little nutmeg, and nuggets of butter all cooked in the oven. That's the original, but the variations are endless – brioche, croissant, waffles, hot cross buns; chocolate, pears, rhubarb, blackberries, marsala wine! Come on! Keep it simple. Keep it classic.
2. Queen of Puddings
There is something about a mouthful of soft meringue and custard-soaked bread with a hint of lemon mingling with raspberry jam that is truly mouthwatering. And despite the bread crumbs, milk and eggs, those peaks of golden meringue on top make this an exceedingly light dish.
The breadcrumbs are soaked in warm milk with sugar and when it's cooled, egg yolks are mixed in and the whole thing is baked.
The key to the best Queen of Puddings is the next step. Don't go slathering piles of raspberry jam on the thing. Keep it delicate by heating the jam first and brushing just a thin layer over the base. Top it with beaten egg whites and pop it back in the oven. A little fussy, but a lot delicious!
3. Sherry Trifle
Take a spoonful of fridge-cold custard and cream, then bite through the sponge infused with sherry and taste the sweetness of raspbery jam – no need for fruit. In fact, fruit just distracts from the sheer pleasure of this fortified wine-doused mushiness.
Trifle sponges, spread with jam and liberally doused with sherry, covered with custard – homemade if you like but the powdered version does just as well – topped with plenty of whipped cream and left in the fridge to infuse. A summer delight.
4. Treacle Tart
A good treacle tart glistens. And whispers in your ear – eat me. This is sugary pleasure at its best, giving you a little crunch when biting through the baked breadcrumbs. And it couldn't be easier to make. Simply mix some golden syrup into the crumbs, add a little lemon to cut through the sweetness and some ginger if you like, pour over a baked pastry base and shove in the oven for 30 minutes.
It has to be eaten warm with whipped or clotted cream. But for such a slender dish, it will pile on the pounds so perhaps make it small if you can't trust yourself with the leftovers.
5. Treacle Sponge Pudding
Now we get to the truly pudding puddings. Or I could say, pudding desserts. What makes a pudding a pudding is the suet pastry. Suet is beef fat that goes through a special process giving pastry a distinctive taste and spongy texture.
It is gooey and delicious, especially when cooked with treacle on the top and served with steaming hot custard.
It is the same pastry used for other British classics such as jam roly poly – suet pastry brushed with jam and rolled up; and spotted dick – suet pastry with dried fruit; and Sussex pond pudding – a whole lemon wrapped in suet pastry. And each of them need to be liberally covered with hot custard.
6. Eton Mess
Now, I'm not a fan of a lot of Eton graduates, but this one is something to write home about. A summer dessert of exceptional class – meringue, strawberries, and cream layered in tall glasses creating a sumptuous, indulgent, sticky mess.
It is said to have been devised when a strawberry pavolva accidently got mashed up at an Eton v Harrow cricket match – how English can you get? 
7. Syllabub
Now this little gem has an ancient history that has survived till today with very little variation. It is simply cream, white wine, and lemon juice and zest all mixed together, put in dessert glasses, and chilled. But the ease with which it is made disguises the indulgent, sophisticated taste that it is. Simply divine.
So sophisticated that, although you really want to shovel it down, you simply can't. It needs slipping slowly and delicately off the spoon.
8. Summer Pudding
A good English garden will have a plethora of fresh fruit come the end of summer: rasp-, straw-, black-, logan-, and dew-berries, and of course the currants – red and black. What to do with them all? Lightly stew them with a little sugar and pour them into a bowl lined with… pastry? No. Bread. What? Yes, bread – and try to get some good tasting bread with a good texture because the white sliced just wont cut it for this little gem of a pudding. Line your bowl with slices of bread, squeezing the pieces together so there are no gaps, pour in the fruit and leave overnight to soak, or at least 6 hours. To serve, tip onto a plate and get out the pouring cream. Delish.
9. Apple Pie
You don't need me to describe an apple pie. Just know this is a British invention – many centuries old – and is still a family favorite. Now, you know they say "as easy as apple pie"? Well it is. Takes a little time and practice to get that pastry just right, but, really, it's a simple dish. B
ut there are so many takes on how to make it – do you precook the apples or not, use cookers or dessert apples, add spices or keep it simple, lattice it, crinkle it, or put on pastry leaves? So many choices and we all have our own favorite. Not had one for a while? Perhaps it's time. 
10. Fools
Another delight for the English summer made with English garden produce. The fruit fool. Tangy stewed fruit mixed with thick rich cream served icy cold from the fridge, it is a dessert that beats the heat every time. And so versatile. Just about any fruit makes an excellent and classy dessert.
Strawberries, blackberries, gooseberries, raspberries, or, if you're feeling really fruity, mix them together, lightly stewed with vanilla and a little lemon and mixed into well whipped cream, chilled, and, before serving, top with just about whatever you fancy – more fruit, crushed macaroons, a little frozen mint. If you need to, replace some of the cream with a thick Greek yoghurt. I like to think this got its name because it is so easy to make any fool could do it. Who knows.
11. Knickerbocker Glory
This one will have your little ones sniggering – knickers!? But it can be as childishly simple or as complex and refined as you like. The only requirement is tall dessert glasses and long spoons. If you don't have these, then it's simply fruit and ice cream. Because it's all in the layering. Fruit – chopped, stewed, canned, as you wish, then ice cream, then fruit – perhaps a little couli, then cream, then start all over again.
Now you see why you need tall glasses. And top it all with crushed nuts, chocolate buttons, crushed biscuits… The only thing holding you back with a knickbocker glory is your imagination. Why not let the little ones build their own?
12. Cranachan
This king of Scottish desserts makes the most of the fresh raspberries plentiful in Scotland around the end of June.
It's a mouth-watering mixture of layered toasted oats, fresh raspberries, thick cream (or, if you can get it, Crowdie, a Scottish cream cheese) all soaked through with a couple of teaspoons of whiskey. Served, like knickerbocker glory, in tall glass dishes.
---
Since you are here check out our rankings of the best English, Welsh, Scottish foods and British foods.
Related: 18 Delicious English Desserts