Best 15 Avocado Oils (Reviewed!)
These are the best avocado oils you should try this year!
Avocados are quite pretentious. You have to know how to buy the perfect fruit, not too ripe, not too hard. And if you thought it's easier with avocado oils, well…
If you are here you are probably interested in leading a happy, healthy life. You are probably interested in the benefits of avocado oil for your body and you are willing to pay a little more to sustain a healthy lifestyle.
While avocado oil is not the cheapest oil to spend your buck on, most avocado oil commercialized in the US can be stale before expiration date, according to a study conducted by UC Davis.
Moreover, according to the same study, three samples analyzed that were commercialized as avocado oil were in fact 100% soybean oil and did not contain any avocado oil at all.
Unfortunately, as you read, the FDA is still working on developing higher standards for avocado oils producers. Even less fortunate: the fact that many oils labeled as avocado oils are actually mixed in with other inferior and cheaper oils. So this is why you need to know…
… All about avocado oil: it's great for your body, in and out
Avocado oil is considered to be one of the most precious and healthy oils you could use inside and outside your body. However, the vast majority of avocado oils in the US are quite inferior when it comes to quality.
Some of them are mislabeled, containing other oils mixed with avocado extraction. Some of them are overly processed. And some are rancid or oxidized due to prolonged exposure to harsh conditions, such as heat, humidity and sunlight. You do not want oxidized oil, since it loses all its properties and flavor.
And while avocado is the good kind of fat, how can you make sure you got the best product? Start with color: virgin avocado oil should be green in color. So processed, refined versions are yellow and quite clear. Also, make sure to trust your taste buds: fresh oil has a buttery taste, with a grass freshness and an earthy, mushroomy after taste.
Rancid oil, on the other hand, tastes like playdough, so you'll spot it right away. The perfect way to make sure you always buy the best avo oil?
Know the difference between refined and unrefined
Some of the best avocado oils are unrefined. However, it's important to know that refined avo oil is better for cooking, having a higher smoking point. Just make sure to know that its flavor, smell and properties are diminished. Unrefined avocado oil, however, preserves the taste and benefits and can be used as it is and in foods in lower heat.
Does the extraction method matter?
Yes, as it does with all oils. Virgin oils are obtained with mechanical squeezing machines and no chemicals added in the process. The temperature is also kept low ensuring the oil keeps its essential nutrients, minerals, vitamins and fats. Make sure to choose cold pressed avo oil to fully benefit from all its wonderful properties.
Should you cook with avocado oil?
Yes! As we mentioned above, you can and you should use avocado oil for cooking. Make sure to go for the options that are labelled accordingly. We actually made sure to add a couple of tested oils for you to choose from if you're looking for cooking avo oil.
Make sure to avoid bad avocado oil!
Choose the oils in dark glass bottles and containers that protect it from going rancid and oxidized. While avocado oil is rich in oleic acid, making it highly resistant to oxidation, make sure to choose the best recipients. Also, it's important to avoid plastic recipients since they can give it a bad taste and smell.
Avocado oil is one of the healthiest oils out there. Make sure to choose a stable oil with a low acidity (0,8%) and try to buy separate types of oils for cooking and raw-consumption.
Now that you know all there is to know about the magic of avocado oil, let's dive in. Here's what avocado oil to buy, with pros and cons & everything:
15 of the best avocado oils out there
What is the best avocado oil for your needs? Dear consumers, here are our picks:
1. Chosen Foods 100% Pure Avocado Oil
Probably the best due to its mild flavor. Made from Hass avocados, it can be used in cooking, salads and your beauty routine. While some deemed it rather bland, many of the tasters found it ideal when it comes to aroma. Con: quite refined
Cold-pressed
Non-GMO, 100% pure (no chemicals, pesticides, fertilizers are used to process this oil)
Smoking point: 500F
Environment friendly recipient
The amazing thing about this manufacturer is the range of oils they market. Keto, Mayo, spray options, you'll find them all, depending on what you need.
Chosen Foods Avocado Oil Spray is expeller pressed and naturally refined, being ideal for cooking. Very practical and it's free of additives and chemicals.
2. Nutiva Organic Avocado Oil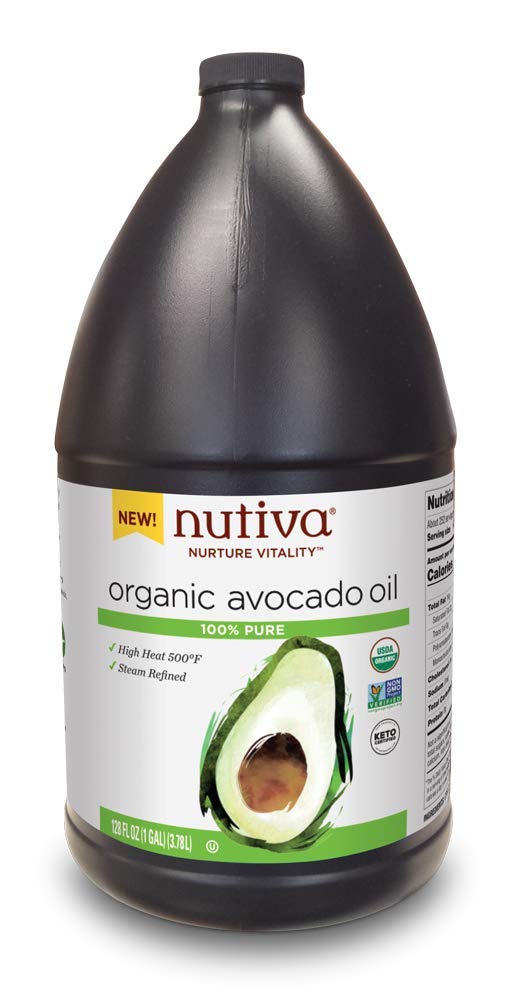 Nutiva is completely organic and the brand really invests in the protection of the planet. It has a neutral taste which makes it ideal for every type of cooking.
Made from Ethiopian regenerative organic farms
Versatile, you can use it in cooking and in skincare and hair care routines
3. Avohass Avocado Oil
Quite expensive, nevertheless high in quality, and you can see it in its color and flavor. This oil is extra virgin, cold-pressed and unrefined. It has a buttery, rich, intense taste and a deeply green color. Some people tasting it perceived a stale flavor. Con: a little too much on the pricey side.
Non-GMO
Cold pressed, extracted from A-grade California avocados
Smoke point: 482 degrees
Good for cooking and external applications (hair and skincare).
4. Ava Janes Avocado Oil
This rich in nutrients, vitamins and healthy fats oil is locally sourced in Mexico.
5. Primal Kitchen Extra Virgin Avocado Oil
When it comes to size, this is probably the best quantity to consume and keep stored without going stale. Great smooth, buttery, rich taste but mild enough to be consumed raw without any pungent smell.
GMO-free
Pure avocado oil made from Spanish fruit
No additives
Mild taste, perfect for keto and specialized diets
Versatile, can be used in cooking, in moisturizing the skin and scalp and due to its mild aroma even as a carrier oil for your essential oil diffuser and beauty blends
Con: some people did not choose it because of the high price.
6. NOW Foods Avocado Oil
Ideal for skin care and massages and in your hair care regimen, since it deeply nourishes the scalp and conditions the hair.
Expeller pressed
Non-GMO, hexane free
Con: not mentioned as a cooking oil.
7. BetterBody Foods Avocado Oil

One of the best avocado oils for high-heat cooking: BetterBody! It has a smooth, mild flavor and a high smoking point, being ideal for all kinds of recipes, from baking to deep-frying.
High smoke point
Ideal in every type of cooking and in salads, also perfect for your skin and hair care routine
Con: plastic recipient.
8. La Tourangelle Avocado Oil
Did anyone else love the name and thought it was kind of Moulin Rouge? Well, not only the name is good! This oil brings the best for the buck. 250 ml of oil is extracted from about 20 avocados, making this oil dense and with a potent aroma, but quite the pleasant flavor. And it's affordable!
Tin recipient
100% natural
Multi-purpose
Expeller-pressed, not fully refined
Artisanal
Light texture, very versatile when it comes to usage
Some people have stated that this oil has a strong taste and smell
Perfect for your beauty routine as well.
9. Baja Precious Avocado Oil
Sourced in Mexico and bottled in CA, this avo oil is a high quality product. It's perfect for baking, high temp cooking, deep frying even and of course, salads, dips, marinades.
Free from hexane, so the fruit keeps all its properties while turned into oil
BPA free plastic bottle with an easy-drip mechanism
Expeller pressed
Flight, delicate flavor
100% avocado oil.
10. Sports Research Pure Avocado Multi-Purpose Oil
Another avo oil especially designed to hydrate and soothe the skin. It's ideal to nourish mature skin and makes a great adjuvant for mature dermis and wrinkles. It can also be used to balance the scalp and deeply moisturize.
100% pure ingredients
Cold pressed
Non-GMO
No added fragrances, solvents, chemicals, no hexane.
11. Kevala Avocado Oil For Cooking
This is a cold-pressed, premium oil. It has a mild taste and aroma and consumers find it ideal, since it's not too overwhelming. If you're just turning to avo oil, start with this one!
All-purpose oil
BPA-free plastic recipient
Non-GMO, the oil is extracted free of solvents, hexane and other chemicals you do not want in your body
Kosher.
12. Wickedly Prime Avocado Oil For Cooking
Made from 100% Hass avocados, this oil is one of the best for cooking. This product is Kosher and has a high smoke point. It has a mild yet noticeable flavor.
Expeller pressed
Gluten-free
Versatile use
Con: it comes it a plastic bottle.
13. Bella Vado Organic Extra Virgin Avocado Oil
It is deemed to be one of the best avocado oils for a healthy cardiovascular system. It's organic and has a mild, delicate taste.
GMO-free
Unrefined and unfiltered
Made in USA
Con: its strong, intense aroma and distinctive flavor bothered some tasters.
14. Prasada Avocado Oil
This oil is cold pressed, retaining all the nutrients. It has a natural flavor and it's made from avocados from Mexico, Spain and the US.
High smoking point about 520F, being safe for all recipes
Pure avocado oil
Non-GMO
Con: plastic recipient.
15. Healthy Harvest Avocado Oil
One of the most convenient avo oils out there, since it comes in a large, one gallon container. However, make sure to use it within six months after opening.
Free of GMO
Naturally processed
Light color, mild aroma.
---
Chef's Pencil is reader-supported. If you buy something through our links, we may earn an affiliate commission, though this not impact the product selection, which is done independently by our editors and contributors.
Here are the health benefits of avocado oil:
Avocado is quite the superfood. It's no wonder that the oil extracted from this fatty fruit's flesh (yes, not its seeds!) is so appreciated. It's filled with many healthy compounds and it's quite delicious. So, before recommending you the best avocado oils, here are some of its properties that boost your health:
It lowers the cholesterol: Monounsaturated fats are the best for your heart and vascular system. Avocado helps maintain a healthy cholesterol level, increasing HDL, the good cholesterol and lowering triglycerides and LDL, the bad cholesterol.
It contributes to healthy blood pressure level: If you've got high blood pressure replace all your oils with avocado oil. It sustains a normal blood pressure helping the kidneys in balancing it.
It helps eliminate toxins from your bloodstream: Filled with magnesium, avocado helps the kidneys and the liver remove black metals from the bloodstream.
It helps prevent and fight inflammation: Avocado is plentiful in anti-inflammatory compounds, aka antioxidants. They fight the damage caused by free radicals and it is said that avocado consumption reduces many types of inflammation: from periodontal disease, to arthritis and even cancer.
It works wonder for skin damage and irritations: The fatty acids in avocado oil help maintain a healthy skin. This oil can even be used to treat skin injuries and fasten wound healing.
It replenishes the skin and diminishes wrinkles: Not only does it help with skin injuries, but using avocado oil can help nourish mature skin, diminishing wrinkles and spots and making the dermis fresh and plump.
It helps maintaining oral health: Avocado oil contains pro-inflammatory cytokine molecules helping reduce all types of inflammation. These molecules are responsible for inhibiting bone erosion of your teeth as well.
It improves your digestion: The fibers in avocado help the digestion. And while the fibers are usually lost in the process of obtaining the oil, the nutrients that remain intact still help your tranzit.
It stimulates hair growth and keeps its texture shiny: It feeds the body, the skin and also the hair. Applied on the tresses it improves hair structure. High in lecithin and vitamin E avocado oil also acts like a great natural conditioner and it protects hair follicles, hence boosts growth.
It boosts weight loss: While 90% in avocado is fat this fruit helps you lose the pounds. Especially if you let go of saturated fats.
It helps with nutrients absorption: Some nutrients need fat in order for the body to absorb them. Antioxidants carotenoids found in a high concentration in plants, veggies and fruit need fat to be fully absorbed. So add some avocado or avo oil in your salad and boost its nutrient intake.
It contributes to a healthy eyesight: Filled with lutein, a natural carotenoid, avocado nourishes the eyes, preventing degenerative diseases such as cataracts and age-related conditions.
Nutritional value of Avocado Oil
With a heat resistance up to 520F, avocado oil is ideal for high temp cooking, and a great addition to salads and dippings, since it has fewer calories than other oils. And let's not forget it contains monounsaturated fats, which are healthy for our cardiovascular systems.
Avocado oil also contains about 70% oleic acid, an omega-9 monounsaturated fatty acid. It also contains lutein, a great antioxidant, lecithin, vitamin E, omega-3 and omega-6 fatty acids. Here are other details you'd want to know about avo oil. It contains:
Calories: 124
Fat: 14 gr
Sodium: 1mg
Carbs: 0 gr
Fiber: 0 gr
Protein: 0 gr
Sugar: 0 gr