10 Best Freezer Containers Reviewed
One of the most important appliances in your kitchen is the freezer. It is the best method of preserving food, as it only slightly alters the taste and texture, and it can keep your products fresh for a long time. You can freeze fresh products, such as meat, vegetables, and fruit, but you can also freeze cooked food and shorten the time you spend in the kitchen every week.
However, one question will always arise regarding freezers: how should you store your products to maximize their shelf life and also the space in your freezer?
There are several methods of storing food inside the freezer. You can use freezer paper, foil, jars, zipper freezer bags, and plastic bags.
Each of these works best for a certain type of food, and you can wind up with a bunch of dedicated storage methods that you seldom use and just take up a lot of space.
The good news is that there is one storage method that has proved to be the most versatile – freezer containers. These come in all shapes and sizes, can be adapted to different food, and, most importantly, they organize the space inside your freezer drawers and maximize the way you use that space.
What to look for when buying a freezer container
Material
The best materials for freezer containers are borosilicate glass and BPA-free plastic. Each one comes with certain advantages and disadvantages, so it's very important to consider all factors before deciding which to buy. Glass freezer containers are very durable, environment-friendly, and come with a stylish look. (Who wouldn't want to open the freezer door and see a Pinterest-worthy image?) Most of them can be used in the oven, so there's no need for a second container when you want to heat food. Glass freezer containers are heavier than plastic and more expensive.
The best materials for freezer containers are borosilicate glass and BPA-free plastic.
Plastic freezer containers are also durable, but sometimes they are prone to scratching. Make sure that you choose BPA-free plastic, as other plastics can affect your health in the long run. An advantage of plastic freezer containers is their weight, as they are usually lighter than glass ones. However, most of them can't be used in a regular oven, although some will work in a microwave oven. Another advantage is the price, as plastic freezer containers are usually cheaper than glass.
Lid
Although there are several choices, the best freezer containers have airtight lids. This will lengthen your food's storage life, ensure a better freezing process (a frozen product in contact with air will sometimes dehydrates), and, sometimes, will allow you to use the container for something other than freezer storage. Airtight lids are also leakproof, guaranteeing that you can store liquids without spills.
Best Freezer Containers Ranked
1. Pyrex Simply Store Meal Prep Glass Food Storage Containers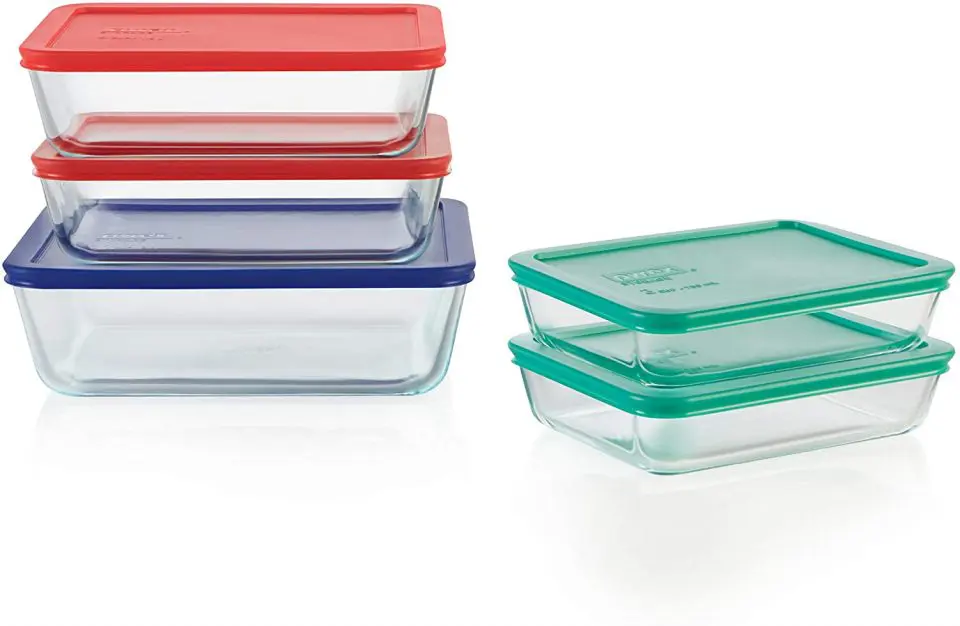 Highly recommended on Reddit, the Pyrex Simply Store Meal Prep Containers are rectangular storage dishes that come in 3 sizes (3-cup, 6-cup, and 1-cup).
The pyrex glass is nonporous, meaning that it won't absorb food odors and won't stain. These containers are also dishwasher, microwave, and pre-heated oven safe. The containers are also suitable for taking food on the go.
2. Anchor Hocking Round Food Storage Containers
The Anchor Containers come in a variety of sizes, with different-colored lids. The four 1-cup containers have key lime lids, the four 2-cup containers have mint lids, the three 4-cup containers have teal lids, and the two 7-cup containers have blue lids. The glass is microwave, pre-heated oven, refrigerator, freezer, and dishwasher safe, and the airtight lids are BPA-free and top-rack dishwasher safe.
Many customers point out the versatility of the containers, as they can be used in countless ways, from mise en place (organizing ingredients before a meal) to freezer or refrigerator storage, and for baking.
3. Foodsaver Preserve & Marinate Vacuum Containers
Considered the best freezer container by some, the Foodsaver containers come with an original vacuum and preserve method. Connecting the top valve to the sealer (sold separately), the air inside is taken out, creating an airtight seal that keeps food fresh much longer.
The containers are suitable for the refrigerator, the freezer, the dishwasher, and the microwave, but only for reheating. The sealer valve also has a marinate function that allows you to marinate in just a few minutes. Also, the containers have a vacuum indicator that shows when air is removed.
4. Prep Naturals Food Storage Containers with Lids
A different product to those listed above, the Prep Naturals food storage containers are a 50-pack, reusable or disposable container set, freezer, and microwave safe, and made from BPA-free plastic. The containers are stackable, and the rectangular shape is a real space-saver inside the freezer.
The containers come with snug lids that guarantee no-spill surprises, and the plastic is sturdy and won't stain. The Prep Naturals containers are easy to clean, they won't leak or stain, and are perfect for meal prep or for storing food.
5. DuraHome Food Storage Containers with Lids
Another type of freezer container that can be bought in large sets, the DuraHome Food Storage Containers are round-shaped and come in different sizes.
The set has 44 BPA-free plastic food storage containers and 44 lids, all made from clear plastic so you can easily see what's inside. They are microwave, freezer, and dishwasher safe. Because of their round shape, the containers are ideal for storing soups, condiments, sauces, dressings, salads, or fruit.
Apart from being suitable for use in the freezer, the DuraHome containers are also perfect for lunch boxes, meal prep, and portion control. The lids are one-size, so less prone to ill-fitting.
6. Fullstar Food Storage Containers with Lids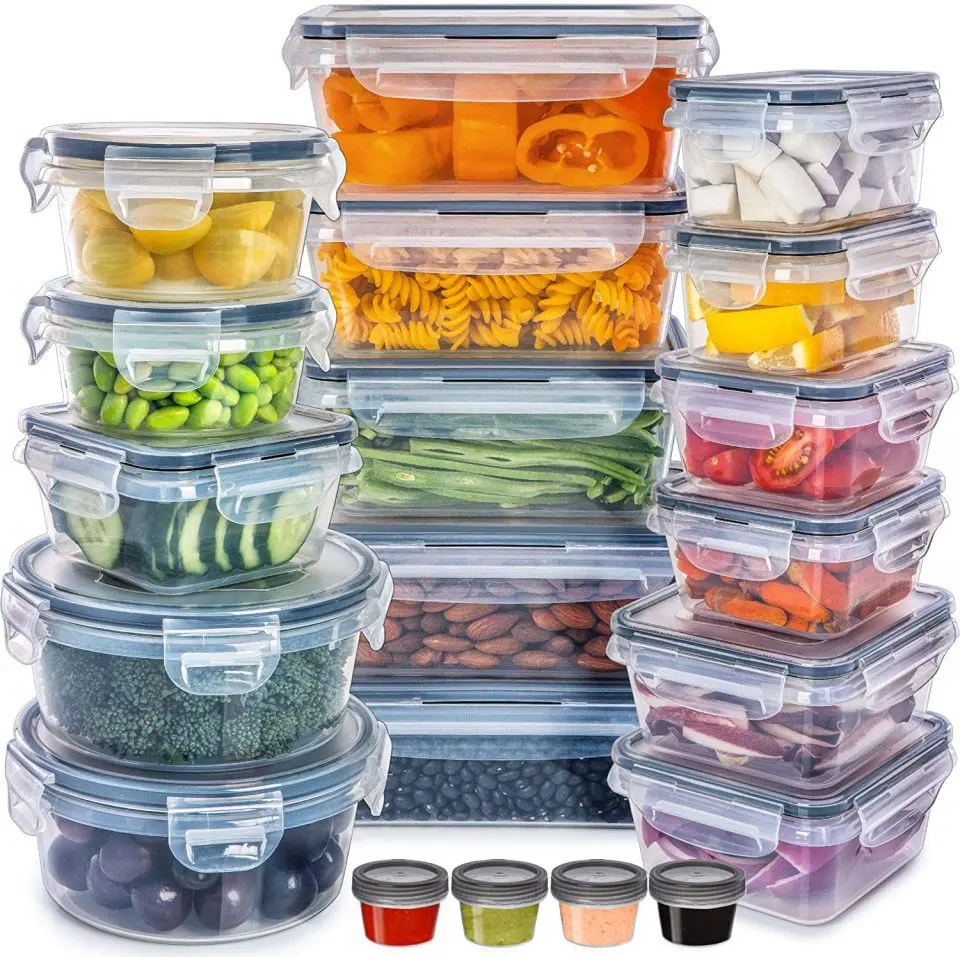 A slightly smaller container set, the Fullstar comes with 20 containers with 20 lids suitable for the freezer, the refrigerator, and the microwave. The lids are airtight, with a 4-hinge leakproof locking system that forms an airtight seal between the container and lid.
The containers come in 10 sizes, fulfilling all storage needs. The plastic they are made of contains no BPA, phthalates, or toxins and is safe for preserving food.
They have a leakproof lock system and are easy to clean.
7. FineDine 40-Piece Storage Container Set
Another storage container set comprising 20 containers and 20 lids, the FineDine container set is designed for those who want to prepare healthier, home-cooked meals.
The containers come in various sizes, suitable for most types of home-cooked meals, and are made from BPA-free, FDA-approved PP plastic. The lid has an airtight 4-snap system that provides an airtight grip which extends shelf life and prevents freezer burn. They are freezer safe, but also suitable for packing lunch bags, storing leftovers, and transporting food to a cookout.
The lid's airtight system doesn't leak, so the containers are really airtight, and they are sturdy.
8. Stasher Platinum Silicone Food Grade Reusable Storage Bag
A different type of freezer container, the Stasher storage bags are functional products that are suitable for the microwave, freezers, dishwasher, and for sous vide cooking.
Made from non-toxic silicone, they are self-sealing and an environmentally-friendly alternative to plastic freezer bags as they are reusable and very easy to clean.
9. Rubbermaid Food Storage Containers
The Rubbermaid 42-piece containers set is BPA-free and microwave, and dishwasher safe. It comes with 21 containers and 21 lids, some of which contain a vented system useful for splatter-free microwaving. The rubberized seal keeps food fresh and prevents leaks. The Rubbermaid containers are suitable for food storage, keeping leftovers, and meal prep.
The Rubbermaid containers come at a very reasonable price, maintain an orderly fridge and freezer, and are easy to open.
10. Razab Glass Food Storage Containers with Lids
A glass meal prep and bento box container set, the Razab set includes 15 glass food storage containers in small, medium, and large sizes with 15 lids. The lids are easy to clean, as the airtight silicone seal is removable.
The containers are stain- and odor-resistant. Also, the set comes with a 5-piece bonus of plastic condiment containers. The Razab containers are perfect for storing leftovers or planning your weekly meal prep. They can be used in the refrigerator, freezer, microwave oven, and dishwasher.
The various sizes come in handy, the lids are airtight and seal well; the containers are easy to clean, and they stack great, saving a lot of space.
---
Chef's Pencil is reader-supported. If you buy something through our links, we may earn an affiliate commission, though this not impact the product selection, which is done independently by our editors and contributors.
Useful ways you can use freezer containers
As they withstand freezing temperatures, freezer containers are also suitable for the dishwasher and the microwave. Some of them are oven-safe. The lid, however, no matter if it is airtight or not, should be removed before using the container for anything except freezing, as it is unsuitable for high temperatures.
Meal Prep and Leftovers
Although most chefs recommend cooking with fresh products and not freezing leftover food, the reality of home cooking sometimes requires both quick meal prepping and freezing leftovers.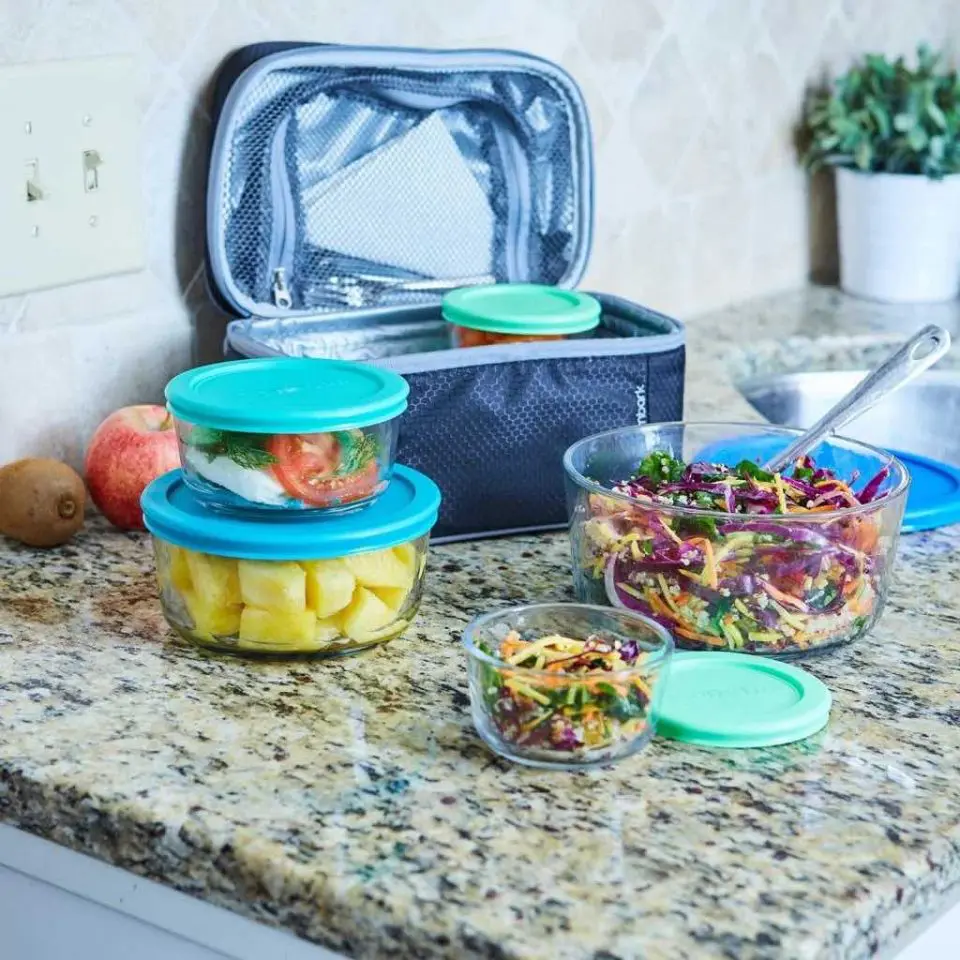 For busy families, cooking time is often a luxury, so preparing in advance or cooking for two or threes days at a time saves a lot of time and energy. Frozen food saves time meal prepping, as it can give you a quick breakfast or dinner as it only needs heating.
The freezer gives lots of methods for saving on meal prepping. You can prepare simple freezer smoothie packs or different microwaveable breakfasts, or cook a week's load of dinners one day. No matter what you choose, you will always need suitable freezer containers. Here are some useful things to think about, even if you're new to meal prepping:
Think about the meals you want to prepare for the freezer, breakfast, lunch, or dinner – or all of them;
Write your menu, using recipes you know and making sure you use seasonal products;
Set time aside for the actual cooking on the day you buy the ingredients;
Stock up on kitchen products that you mostly use (flour, grains, pasta, canned goods);
Store your delicious meals properly, using the best freezer containers and thinking about storage life.
Breakfast Meal Prep Recipe
An easy breakfast meal prep recipe comes from Chef Kelley Simmons, from chefsavy.com.
For Freezer Breakfast Sandwiches, the chef bakes 10 eggs, mixed with ¼ cup milk, and seasoned with salt and pepper. After 18-20 minutes, when the eggs are set, remove them from the oven and let them cool. Cut the eggs into rounds, using a muffin ring, then cut 10 English muffins in half. Top the muffins with your choice of meat (you will need 10 slices of cooked deli ham, bacon, sausage, or Canadian bacon).
Add the egg and then a slice of sharp Cheddar cheese on each sandwich. Wrap each sandwich in aluminum foil, then place them in a large freezer container. You can freeze them for up to three months. To reheat the sandwiches, thaw them overnight in the fridge, then heat them in the toaster oven for 3-4 minutes until warmed through and crispy. If reheating from frozen, microwave the sandwiches for 30 seconds, then place them in the toaster oven.
---
Chef's Pencil is reader-supported. If you buy something through our links, we may earn an affiliate commission, though this not impact the product selection, which is done independently by our editors and contributors.