Best 15 Bread Boxes
You may think a bread box is not worth investing in, but once you get a taste of well-preserved bread and pastry, you just might think twice. Good bread is regaining popularity as people, slowly but surely, are swapping the pre-sliced loaves available in supermarkets for artisanal loaves, freshly bought from the local store or bakery.
The best bread boxes are ideal for storing bread loaves, buns, bagels, pastry products, and much more. Their basic function is to maintain a sealed environment so that air, dust, pests, and insects don't get to affect your baked goods. But if you seal bread in an airtight container, its freshness will suffer.
Bread has to breathe in order to stay crisp. So, when choosing the perfect bread box, know that it needs to provide an environment where bread moisture can raise humidity and air can circulate, preventing it from going moldy.
Bread boxes are made from a variety of different materials. But regardless of the material, the important thing is the quality of the sealing system, which will or wont give you bread as fresh as possible. Certainly, when choosing your next bread box, you will be thinking about whether it fits the décor in your kitchen. Sure, it may take up some space you can't afford to waste if you don't have a pantry, but a bread box can also add a touch of beauty to that space.
Opt for a bamboo bread box if your kitchen style is wooden furniture, or stainless steel may be a better choice if your kitchen has minimal furnishing details. Plastic is not our personal favorite material, but it may suit your needs – if you choose plastic, however, go for recycled plastic or degradable versions that don't affect the environment.
Last, but not least, you might want to consider how much bread or pastry products you and your family tend to consume weekly, so you can choose a bread box of the a size that fits your needs.
With these things in mind, we've selected some of the best and affordable bread boxes available online, and we'd like you to take a look at our top choices, hoping they come in handy in helping you pick the right one for you.
1. Betwoo Natural Wooden Roll Top Bread Box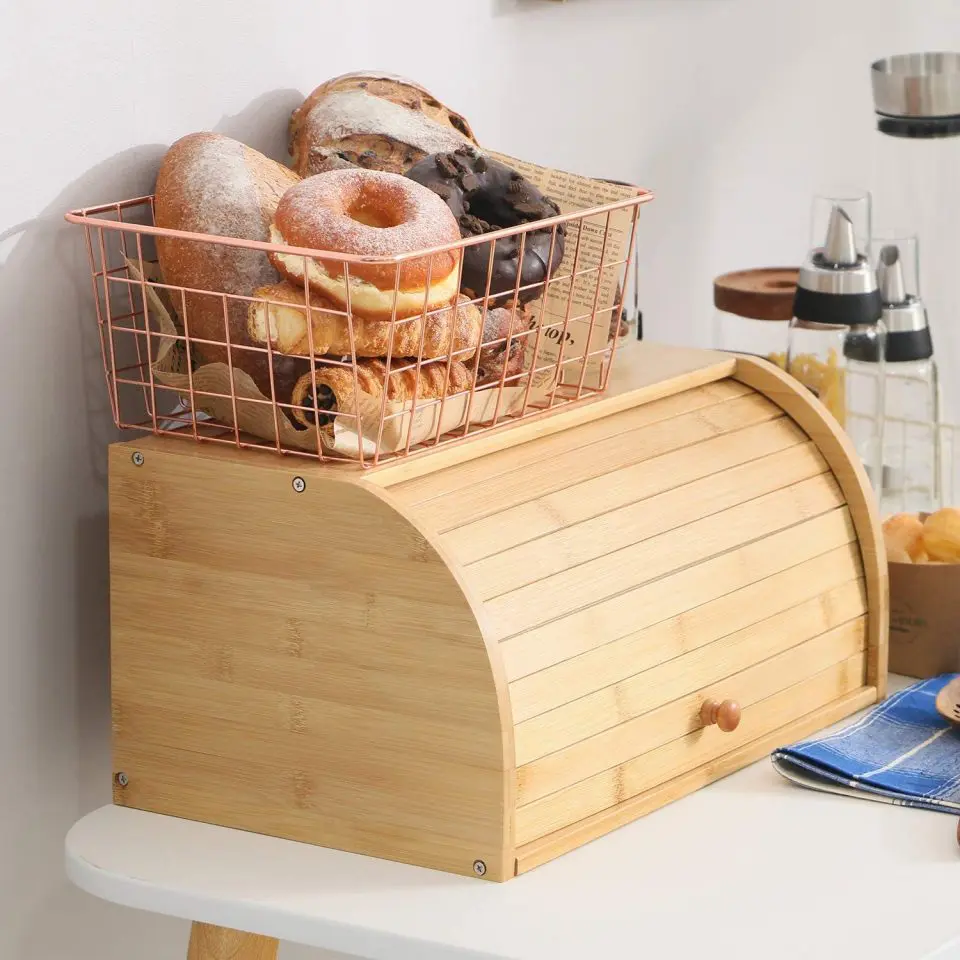 Easy to use and with a fashionable design, you certainly won't feel guilty about the environment when choosing a bamboo bread box. With a traditional, easy-to-use rolling lid, the Betwoo Natural Wooden Roll Top Bread Box is ideal for storing bread, bagels, and even baguettes, and is guaranteed to keep them fresh. This bread container will look great in your kitchen, adding a vintage touch.
However, when choosing bamboo or wooden products, keep in mind that the material expands in certain climates, possibly making it difficult to slide or close the lid. This is rare but it can happen as much as 5% of the time. If it does, simply apply some wax candle or spray some WD40, the universal problem-solver, between the grooves.
Material: Bamboo Dimensions: 8 H X 16.5 W X 10 D Grade: B+
2. Brabantia Fall Front Bread Bin & Brabantia Roll Top Bread Box Matt Steel Fingerprint Proof
Add a modern, minimal touch to your kitchen with this exquisite model that offers not only great function capacity but is also pleasing to the eye.
With enough room for up to two loaves of bread, this product offers great sealing thanks to the plastic rims protecting the edges. It's made of stainless steel with the advantage of being fingerprint proof. One of its best features is that it can be placed on the wall rather than on a horizontal surface, solving space availability problems.
Material: Stainless steel Dimensions: 18 W X 10 D X 7 H Grade: A Extra feature: 10 year warranty
Brabantia Roll Top Bread Box
This is another product from Brabantia, coming in with similar features: fingerprint proof, lightweight, sufficient storage space, perfect sealing, and resistant material. This design has a lid which opens with a rolling motion, and some extra space on top which you can use for storage.
Material: Metal Dimensions: 10.63 x 17.64 x 6.89 inch Grade: A
3. Home-it Stainless Steel Bread Box
Similar in shape to the model mentioned above, the Home-it Stainless Steel Bread Box is probably one of the best products on our list, since it comes with all the best features and the advantage of a good price.
With venting holes which preserve freshness, the Home-it Bread Box will surely satisfy the average customer. It has the looks, it provides the proper room and function and complements your kitchen, adding a modern touch. though its surface may disappoint due to its chrome finish, which is more prone to scratches, smudges, and fingerprints than other metals.
Material: Stainless steel Dimensions: 16.5 x 10 x 8 Grade: A
4. Cream Breadbox by Cooler Kitchen
Big enough to host two loaves of bread, but small enough not to occupy an unnecessary amount of space, the Cream Breadbox provides the perfect conditions to extend the life of fresh bread for up to a week. The bamboo lid is a great feature, as it can be used as a cutting board and lets you dispose of the crumbs right back into the bread box.
It opens and closes in the traditional way, but look at this as an advantage if you don't want to risk buying objects that don't stand the test of time. As we've seen, bread boxes with sliding lids can create problem or even wear out in time. But not the Cream Breadbox by Cooler Kitchen. And it doesn't show up scratches or stains either thanks to its thick metal body.
Material: Stainless steel Dimensions: 13 X 7 X 9.5. Grade: B+
5. Oggi Stainless Steel Roll Top Bread Box with Tempered Glass Lid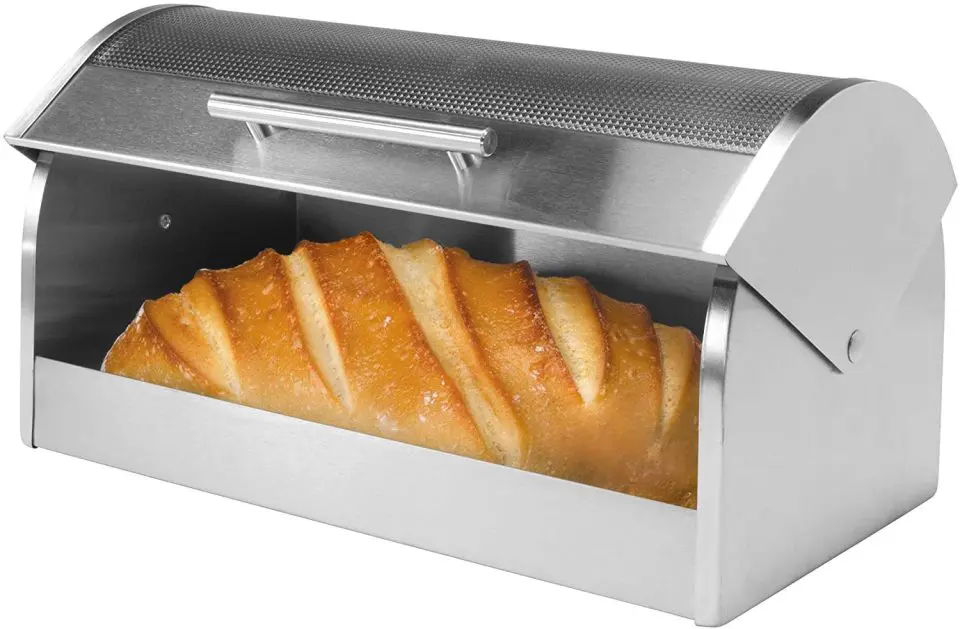 Made of heavy duty stainless steel with a rolling tempered glass lid, this model features anti-slip rubber feet and can store a variety of bakery and pastry products. Even though it doesn't come with any ventilation holes, it will keep your bread fresh according to reviews, making it one of the top choices on our list, judging by quality vs. price.
Materials: Stainless steel & glass Dimensions: 15¼" by 9½" Grade: B+
6. Creative Co-op Bread Box
Probably the product with the highest vintage feel on our list, this bread box is made of enameled metal with a distressed finish and a two-handled lid. It is smaller than the previous items recommended here, so it won't be the best option for a large family.
Its specific appearance, however, may provide an element of surprise in a kitchen with a modern finish, so go for the effect if you're an antique enthusiast.
Materials: Metal Dimensions: 13½ L x 8½ W x 12 H Grade: A
7. Culinary Couture Large Blue Bread Box
Here's one with exquisite looks: the powder coated stainless steel box provides enough room for a small family, but if you purchase a lot of bread, then this isn't the best option for you. Venting holes help keep your bread fresh, and its lightweight body makes it easy to store just about anywhere. There's also a large variety of colors for you to choose from in order to suit your kitchen, or better yet, make it an element that draws all the attention.
Materials: Metal Dimensions: 16.5 x 8.9 x 6.5 Grade: A
8. Bamboo Bread Bin Maison & White
The Maison & White bamboo bread bin has a roll-top lid for easy slide and a wooden handle and offers enough space for you to store a sufficient amount of bread and goods.
Its body is robust, which gives you the certainty of a long life, together with the manufacturer's 2-year warranty. Stylish, functional, and eco-friendly, this product will make a great addition to your kitchen.
Materials: Bamboo Dimensions: W 40.4 cm x H 17.2 cm x D 27.2cm Extra features: 2-year warranty
9. Now Designs Bread Bin, Turquoise Blue
Choose different colors from this one-of-a-kind stylish breadbox, with a vintage finish. The powder coat gives it enough body making it robust and strong so you can rely on it for a few years. It's made with ventilation holes which provide enough air circulation to keep your products crunchy and extend their freshness.
When buying this product, take into consideration that the lid opens 180 degrees, so it can lean against a wall or lie flat on the counter, though this will require more space than your average bread box.
Materials: Stainless steel Dimensions: 16 x 9 x 6.5 inches Grade: B+
10. Mountain Woods Brown Antique Style Bread Box
Perhaps the most unusual product on our list, the Mountain Woods Bread Box comes with a series of features to consider if you're looking for an object that stands out. For one, its extra large size will require additional space on your countertop. Hiding it in the pantry is not an option, since this object is quite something to look at. It's made of Acacia wood and has a rattan lid which closes with a magnetic flip. The wood needs an occasional rubbing with mineral or vegetable oil to maintain its appearance.
Materials: Wood Dimensions: 16 x 10.5 x 9 inches Grade: B+
11. Juvale Retro Vintage Inspired Bread Box
One of the strongest, most reliable stainless steel bread containers out there, this one is not only a product that offers great quality but it comes with great design also. Its dimensions are satisfying and it has all the features to consider when buying a bread box: it's spacious, has vent holes and a modern design, and it comes at a reasonable price.
Materials: Stainless steel Dimensions: 42.5 x 22.9 x 16.5 cm
12. Home Basics Metal Bread Box
Another one on our list with a 180 degree opening system, this vintage-looking stainless steel box is spacious enough to take all your favorite snacks and bakery products, and offers the right amount of ventilation. Made of heavy duty metal, it won't chip or bend easily even if you bump into it accidentally.
Choose from a variety of colors and decorate your kitchen to match your personality.
Materials: Stainless steel Dimensions: 16.7 x 9.5 x 6.5 inches
13. Progressive Expandable Bread Keeper
You may look at this product and think "Why would I buy the smallest product on this list?" But this incredible product has the ability to expand up to 11 inches, so there's more than enough room to store your goods.
It comes with the classic air vents and you can use the bottom as a cutting board, then store everything back in its place.
Materials: Plastic Extra features: Dishwasher safe
14. Airtight Rectangular Food Storage Container with Divider
Made of premium BPA-free materials, this product is good enough to provide for your basic storage needs. Perhaps not the most appealing style, but maybe that's not something you're looking for. This container is FDA approved and is made of eco-friendly materials.
It doubles up as a microwave, freezer, or refrigerator container, too, and is dishwasher safe as well. What more could you ask from such an affordable item?
Materials: Plastic
Dimensions: 18.3 x 15.4 x 5.9 inches
15. Betwoo Natural Wooden Roll Top Bread Box
The difference between this container and the one from the same brand mentioned above is the storage space. This one comes with an extra shelf of space, keeping your food separated. It opens easily with a knob, and it's super easy to clean.
It is a stylish item and is probably the best option on this list if you have a larger family, although it does requires a bit more room.
Materials: Bamboo Dimensions: L 14.96 X W 9.84 X H 14.37
To make it easier for you to find a product that is not only functional but also a stylish addition to your kitchen, we've browsed through multiple product options, varying in size, material, and characteristics.
Keep in mind the amount of bread you purchase on a weekly basis, depending of course on the size of your family, and how much space you have available for storing a bread container and you should find your next bread box among our suggestions.
---
Chef's Pencil is reader-supported. If you buy something through our links, we may earn an affiliate commission, though this not impact the product selection, which is done independently by our editors and contributors.