5 Grilling Tips from a Top BBQ Restaurant in Brooklyn
Summer is in full swing and hosting fun barbecues with family and friends is the new weekend norm.
Whether you're a beginner or seasoned at grilling up barbeques, check out these tips from one of the best BBQ restaurants in hip and trendy Brooklyn, NY.
So, read up, get your tongs ready, and soon enough, you'll be on your way toward becoming that master barbeque griller you have always dreamed of being.
1. Light the Barbeque Early Enough
This first tip may sound basic, but it's one of the most neglected aspects of BBQ-ing by many grillers. Perhaps you're in a rush and think that heating the grill is a quick process. Unfortunately, that's not the case and placing meat on the grill prematurely leads to a failed barbeque.
A good timeframe is giving your grill half an hour at least to light and reach a good temperature for grilling. Remember that grilling takes a lot of patience. You'll also have to wait for the flames to die down, as that's when the heat is most even.
Don't wait to start the grill when guests have already started to arrive, as chances are, they're already going to want to feast on something.
If the grill is started too late, you risk serving under-cooked meat. Even if you make sure to serve cooked meat, your guests can end up desperately hungry due to the wait. Feeling rushed is also to be expected if you wait to start grilling.
It's better to start early, have the barbeque ready and cooked, or keep it warm in a low-temp oven while covered loosely in foil.
If you need more tips on how to light a barbecue grill well enough, visit this site here.
2. Don't Use a Gas Grill
There's nothing better than the feel of the smoke coming up from your barbeque. In fact, for many expert grillers, the smoke of the grill forms a part of the ingredient itself. There are many different ways to cook a barbeque, but whatever form you decide to go for, never use a gas grill. You may have a well-cooked meal, but the barbeque smoke flavor won't be there.
Choose other means of grilling, such as:
Split logs
Direct heat
Wood chips
Charcoal
If you decide to go for logs and wood chips for cooking, here are some bonus tips for you to apply:
Use wood chips from fruit trees for that extra flavor. Fruit trees have a mild flavor that complements any barbeque and have fewer impurities.
Soak the wood chips in water overnight or even just for at least an hour before you cook. Then, wrap it in aluminum foil while placing it on your grill. This can help enhance the flavor of your barbeque.
3. Maximize the Space and Potential of Your Grill
When you're having a dinner or afternoon barbeque, you'll want to use the grill to its full potential. Don't just stick to the meat. You can quickly grill any fruit directly on the bar. You can even add fish wrapped in foil. If you'd like potatoes on the side, try wrapping them in foil and putting directly on the embers.
This makes for excellent add-ons to an otherwise meat-laden barbeque. You can have extras with chicken, grilled salad, fruits, or whatever it is you wish to add.
4. Rest the Meat Before Eating
Once you're done cooking, remove your meat from the grill — but don't eat it right away. Before you serve the cooked barbeque, give it a few minutes to sit. That way, all the juice and the flavor get sipped and preserved. Doing this will also stop the meat from getting too dry.
Along with that, here are other tips for you to save the juice from your barbeque:
Use barbecue tongs or spatulas to turn your meat.
Don't poke holes into your meat it's while still cooking.
5. Get the Temperature Right
The challenge with cooking barbecue on a grill, compared to that of an oven, is that it's going to be somewhat harder for you to monitor the temperature. Remember that you're doing things manually, unlike in an oven, where you've got controls to set the right temperature.
Fortunately, the experts have shared a secret that you, too, can apply…
You can test the heat of the grill with just your hand. Put your hand about five inches above the grill and see how long you can keep it there comfortably:
Six seconds means low heat
Four seconds, medium heat
Two seconds, high heat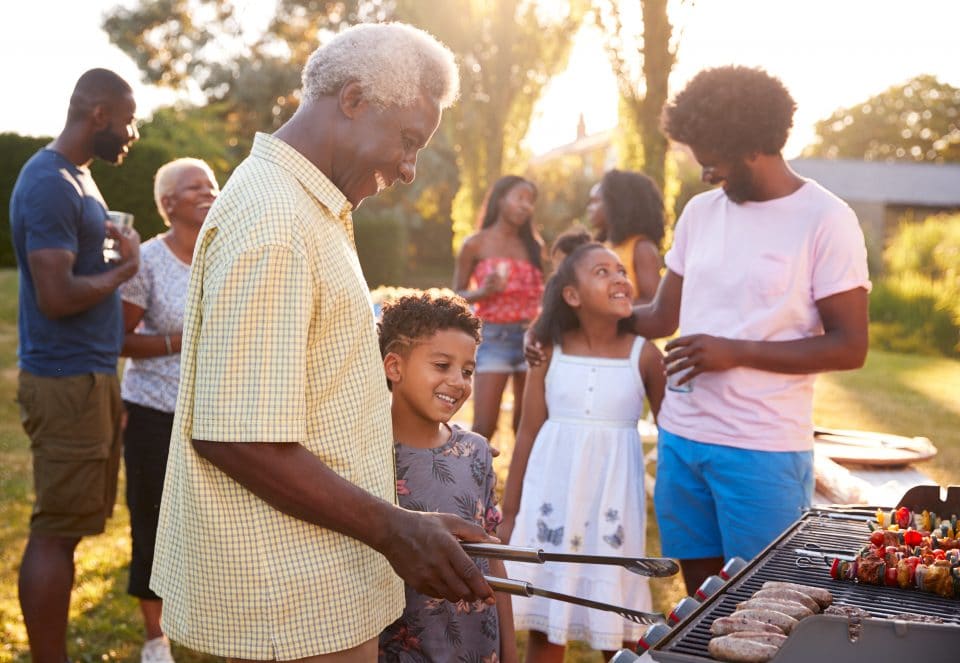 To control the temperature across the entire grill, the best way is to go half and half. Put all the coals on one side, for the highest heat. That way, you have one side with no direct heat at all. You can move your barbecue from one side to another as you please.
When it comes to outdoor dining, a good barbeque is something you should never miss out on. Everyone surely loves the smell of the grill heating up for a smoky delight.
If you haven't exactly been the best griller in the past, now you can surprise your family and friends with your newly found skills. If you're a seasoned griller, then hopefully you still picked up a couple of good tips.
Apply these tips from the experts in Brooklyn, and soon enough, you can have Brooklyn-quality barbeque right in your yard.
If your loved ones are as much into grilling as you are, make sure to check our amazing grilling fans gift guide.